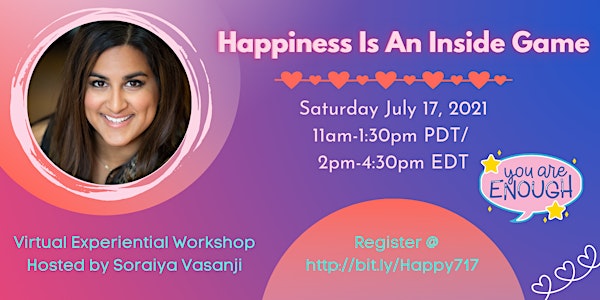 Happiness Is An Inside Game
Begin Within And Explore How Our Words and Self-Love Language Support or Undermine our Self Worth. Now is the Time To Create Your Happiness
About this event
What if happiness is not the destination?
I used to think happiness came as a reward for achieving the big things - the job, the marriage, the promotion, the car, the vacation, buying the purse, the shoes, the sunglasses.... but why then was I still searching for happiness?
Society signals us that we should be generous and giving and when we give we will be happy..... but why then am I still searching for happiness?
What if we flip the idea and think about how HAPPINESS IS AN INSIDE GAME, what if we start from a place of happiness?
Join me in this 2.5 hour experiential workshop where we will GET HAPPY!
We will:
Uncover how our language supports or limits our worthiness beliefs
Harness the power of language and rewrite a happy ending
Learn how to reclaim your power in any moment
Refresh your Self Love Happy List
This isn't one of those boring lectures that you can play in the background while you are multi-tasking on laundry, cleaning out the junk drawer or assembly some wooden furniture. It is a camera-on, hands-on retreat to get some happy in your life, that you deserve! Cause friend, you are good enough! You are worthy! And you get to gift this to you!
A Little Bit About Me, Your Host:
Soraiya Vasanji, CPC, ELI-MP, MBA
Known as "The Mindset Mom", Empowerment Coach, Energy Leadership Index Master Practitioner, Author, Motivational Speaker and Mom!
Founder and Host of the Mommy Mindset Summit Series & Mommy Mindset Squad
Soraiya is on a mission to end the generational and societal pressures and beliefs moms feels around what a good mom/woman should look like. "We are the designers of our life and it's not about being perfect, but being present, embracing our unique gifts, sharing our gratefulness and loving up our messy life." She believes the magic is in the little moments of feeling deeply seen, heard and accepted. She lives by her moniker, "A Ray of Sunshine" and spreads her cheer and warmth to all who share her light.