About this Event
Wine & Happiness. The Perfect Pairing!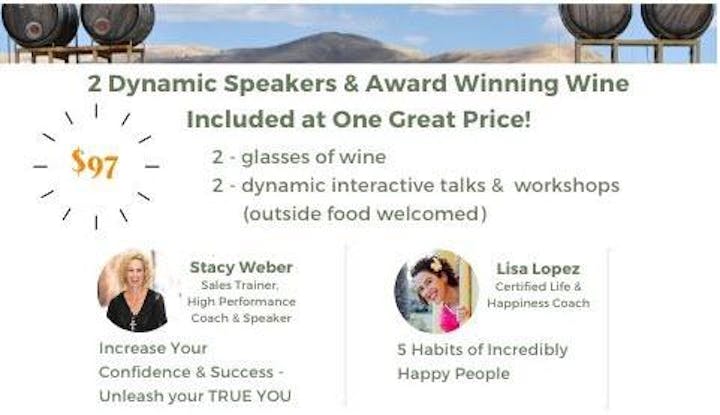 Speaker & Topic Details
Increase Your Confidence and Success by Unleashing the TRUE YOU! Learn how to identify and leverage your authentic self, strengths and talents!
Stacy Weber, Founder of Tru You Training | www.truyoutraining.com
Founder of Tru You Training. She's an inspiring and passionate Speaker, Empowerment Coach, Corporate Sales Trainer and the creator of Limitless Life, Body & Business Training and Unleash Your Sales Potential Program. She has over 25 years of experience in sales, sales leadership and sales training. Stacy is also a Certified Life Coach and Certified Personal Fitness Trainer. She specializes in working with people to create an unstoppable mindset of unlimited possibilities. Using the Law of Attraction, she guides men and women to align their mindset, habits and beliefs with their goals, to create their best life, body and business. Professionals leave her programs inspired and excited to use her keys to create their Limitless Life in all areas!
5 Habits of Incredibly Happy People
Lisa Lopez, Founder of Live Happy Coaching | www.livehappycoaching.com
Lisa is a Certified Life and Happiness Coach, Eli-Master Practitioner, World Happiness Summit Coach Facilitator and IRON Woman athlete. Lisa helps businesses, organizations and clients ages 13 and up to reset, recharge and reclaim the happiness they deserve. In her talk, "5 Habits of Incredibly Happy People" Lisa will share the science- based techniques used by some of the world's happiest people. You will leave feeling energized, more connected and with practical strategies to increase your happiness and improve your life.