Description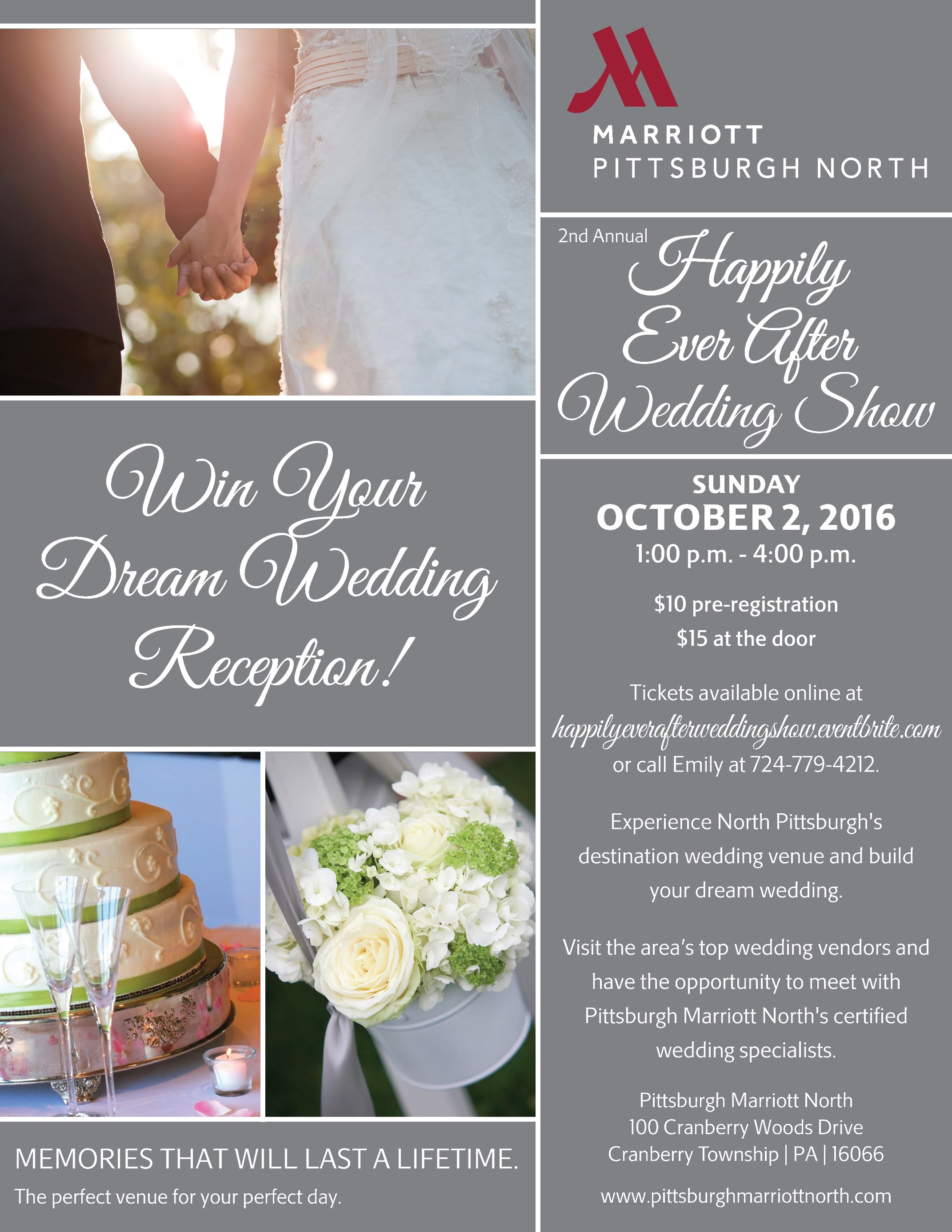 Void outside the 50 United States, District of Columbia and where prohibited. Do not proceed to enter if you are not at least 18 years of age and a legal resident of, and located within, one of the 50 United States, or the District of Columbia, at the time of entry.
The Pittsburgh Marriott North $10,000 Wedding Package Give Away begins at 1:00 p.m. Eastern Time ("E.T.") on 10/2/2016 and ends at 4:00 p.m., E.T. Must be present to win Day-of-Drawing at 4:00 p.m. on Sunday, 10/2/2016 Sponsor: Pittsburgh Marriott North, 100 Cranberry Woods Drive, Cranberry Township PA. 16066
ENTRY: Submit your name, address, phone, email, and wedding date at EVENTBRITE. $10 advanced purchase and $15 day of show.
LIMIT: One entry per person with a valid email address. Any attempt to obtain more than the stated number of entries by using multiple/different email addresses, identities, registrations, logins, or any other methods may result in disqualification by Pittsburgh Marriott North, in its sole discretion.
ELIGIBILITY: Legal residents of the 50 United States, and the District of Columbia, 18 years of age or older are eligible to enter, except employees of Pittsburgh Marriott North, companies participating in the event, and any other organizations affiliated with the sponsorship, fulfillment, administration, prize support, advertisement or promotion of the Give Away and/or their respective agents, affiliates, subsidiaries and members of their immediate families or household members. "Immediate family members" shall mean parents, step-parents, children, step-children, siblings, step-siblings, or spouses. "Household members" shall mean people who share the same residence at least three months a year. Winner must be currently unmarried and must legally marry within 75 miles of Pittsburgh Marriott North location at 100 Cranberry Woods Drive, Cranberry Township PA, 16066 between October 2, 2016 and March 26, 2018 based on availability. Non-transferable. No remaining balance of the $10,000 will be paid out.
WINNER SELECTION: On 10/02/2016, The Sponsor, hereby known as PITNO, will conduct a random drawing from among all eligible entries received. One (1) winner will receive a package of wedding-related prizes valued at a minimum of $10,000. Potential winner will be notified and prize certificate package will be delivered approximately seven (7) days from date of winner verification. In order for a prize to be redeemed, the wedding must take place on a date where the participating prize donor is available. No substitutions will be made. Sponsor will determine all elements of prizing in its sole discretion. Sponsor reserves the right to charge applicable travel fees. Prize may not be assigned, transferred, changed or redeemed for cash, except at Sponsor's sole discretion. Prize is awarded "as is" with no warranty or guarantee express or implied by Sponsor. Sponsor disclaims all and any liability for the actual provision, quality or nature of any third-party product or service accepted by the winner. The awarding of any prize is contingent upon full compliance with these Official Rules. Entrants agree to be bound by Official Rules and agree that if winner fails to provide proof of identity, refuses to provide required documentation, is found to have violated Official Rules, or otherwise does not meet eligibility criteria, prize will be forfeited and awarded to an alternate winner in a random drawing. Entrants understand that Sponsor is not liable for injuries, losses, or damages of any kind arising from participation in this promotion and acceptance, possession, and use of prize. Sponsor is not responsible for any typographical or other error in the printing of the offer, administration of the giveaway or in the announcement of the prize. Decisions of Sponsor are final and binding in all respects. ODDS of winning depend upon the number of eligible entries received.
PRIVACY: Registration for Sponsor's EVENTBRITE.com website is required to enter the giveaway.  When you register, we collect personally identifying information about you, including your name, mailing address, and email address. The information that you provide will be added to a centralized Sponsor database so that you will simultaneously be registered for Sponsor's other websites as well. By entering and providing the required registration information, you acknowledge that Sponsor may send you information, samples, or special offers it believes may be of interest to you about its publications or other complementary goods offered by Sponsor.
IF YOU DO NOT WISH TO SHARE YOUR INFORMATION, PLEASE DO NOT ENTER THIS PROMOTION. DISPUTE RESOLUTION: Except where prohibited, by participating Giveaway entrants agree that: All issues and questions concerning the construction, validity, interpretation and enforceability of these Official Rules, or the rights and obligations of participant(s) and Sponsor and its agents shall be governed by and construed exclusively in accordance with the laws of the State of Pennsylvania without giving effect to any principles of conflicts of law of any jurisdiction. Entrant agrees that any action at law or in equity arising out of or relating to this giveaway, or awarding of the prize, shall be filed only in the state or federal courts located in the State of Pennsylvania and entrant hereby consents and submits to the personal jurisdiction of such courts for the purposes of litigating any such action. Except where prohibited, by participating in this giveaway, entrant agrees that: (a) any and all disputes, claims, and causes of action arising out of or connected with this giveaway, or awarding of the prize, shall be resolved individually, without resort to any form of class action; and (b) any and all claims, judgments and awards shall be limited to actual out-of-pocket costs incurred, including costs associated with participating in this giveaway but in no event attorneys' fees; and (c) under no circumstances will any participant be permitted to obtain awards for and hereby waives all rights to claim punitive, incidental and consequential damages and any other damages, other than for actual out-of-pocket expenses, and any and all rights to have damages multiplied or otherwise increased. Some jurisdictions do not allow the limitations or exclusion of liability for incidental or consequential damages, so the above may not apply to you.
RELEASES: By participating in this giveaway and accepting any prize that they may win, entrants agree to release Sponsor and affiliated companies, advertising and promotion agencies and prize suppliers, and each of their respective officers, directors, agents, representatives and employees, as well as each of their respective successors, representatives and assigns (collectively, the "Released Parties") from any and all actions, claims, injury, loss or damage arising in any manner, directly or indirectly, from participation in this contest and/or acceptance or use of the prize. OTHER: Sponsor assumes no responsibility for entries it is unable to process due to network, hardware or other technical failures; or any other reason, or incomplete, damaged, misdirected, or lost entries. Sponsor reserves the right, in its sole discretion to disqualify any person tampering with the entry process, the operation of the web site or otherwise in violation of these Official Rules. Sponsor further reserves the right, in its sole discretion, to cancel, terminate or modify this promotion if not capable of completion as planned, including infection by computer virus, technical corruption, non-authorized human intervention, or any other causes beyond the control of the Sponsor which corrupt or affect the administration, security, fairness, or integrity of the sweepstake. Sponsor reserves the right in its sole discretion to disqualify any individual it believes has tampered with the entry process, and/or cancel, terminate, modify or suspend the sweepstakes. In the event of cancellation, Sponsor reserves the right to select winner from among all eligible entries received prior to date of cancellation. The use of automated entry systems or any other conduct that impedes the integrity of the giveaway is prohibited. In the event of a dispute regarding online entry, entry will be deemed made by the holder of an established e-mail account associated with the entry.
GENERAL: Except where prohibited by law: (i) entry constitutes permission to use entrant's entry, name, hometown, voice, likeness, photograph and any statements regarding this giveaway in all media now known or hereafter discovered, for any purpose, including without limitation, in connection with, and to promote, market or advertise, the giveaway, in whole or in part, without review, approval, credit or attribution, notification or payment from or to entrant or any person or entity, worldwide, in perpetuity, or on a winner's list, if applicable; (ii) potential winner will be required to complete and return an Affidavit of Eligibility and Release of Liability/Publicity within ten (10) days of notification or an alternate winner may be selected by random drawing. If winner notification is returned as undeliverable, an alternate winner may be selected by random drawing. Sponsor will select up to 2 alternate winners. By participating and winning a prize, winner releases Sponsor, its parents, affiliates, subsidiaries and agencies and their respective directors, officers, employees and agents from any and all liability with respect to the prize won and participation in the giveaway. Subject to all U.S. federal, state and local laws and regulations. Void where prohibited. Taxes and service charges on prize are the sole responsibility of the winner. Winner may be issued an IRS 1099-MISC tax form in the amount of the prize retail value as stated herein.
Upon purchase of ticket, the bearer agrees to the Official Rules for the Pittsburgh Marriott North $10,000 Wedding Package Give Away stated above.