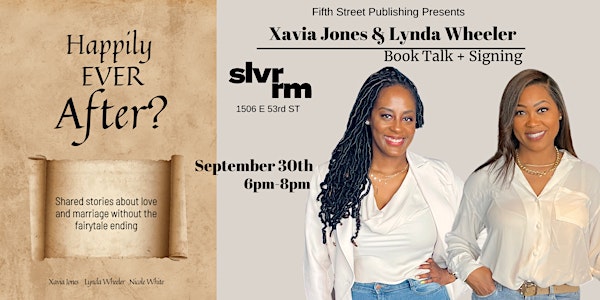 Happily Ever After? Book Talk and Signing W/ Xavia Jones & Lynda Wheeler
What is YOUR happily ever after? Join authors Xavia Jones and Lynda Wheeler as they discuss their book about life after divorce.
When and where
Location
Silverroom 1506 East 53rd Street Chicago, IL 60615
About this event
Join Co-Authors Xavia Jones and Lynda Wheeler as they discuss the motivation behind their latest collaboration followed by a book signing.
Happily Ever After? is a collection of real-life stories from individuals who have experienced divorce or separation and decided to share their most valuable insights. Xavia Jones, Lynda Wheeler, and Nicole White released the book in May 2022 under Fifth Street Publishing and have had a great response to the impactful work.
We are excited to host this event at Chicago's renowned Silver Room in Hyde Park! We will offer refeshments and hope to have a great time!
About the book
There is a lot of shame behind divorce, and shame really gets in the way of people living a fulfilled life. We set out to create a platform that allows people to realize that they aren't alone and bring light to the fact that our self-worth isn't tied to our marital status. We wanted to destigmatize the D-word and redefine what it means to live happily ever after.
What is Fifth Street Publishing?
Fifth Street Publishing is an indie publishing company spearheaded by Xavia Jones and Nicole White. We wanted to not only create a space for us to tell our stories, but we also felt that there was a need to create opportunities for others to share their stories as well.
About the Authors
Xavia is the Co-Founder and Co-CEO at Fifth Street. As a storyteller, author, and business strategist, her passion for writing and business collide. In addition, she is the creative director that oversees book design and social media for Fifth Street. She first published as a children's book author and has works as a copywriter and ghostwriter.
Lynda serves on the Board of Directors and is our acquisitions, and editing manager. She is a lover of both reading and writing. After obsessively journaling throughout her life, she decided to pursue a bachelor degree in English with a focus in creative writing. She is most creative when inspired by true events. A lover of wit and humor, she finds joy in people watching and socializing.