Event Information
Refund policy
Contact the organizer to request a refund.
Eventbrite's fee is nonrefundable.
HAPI - The Role of Economics in the Development of Civilization is a full length documentary. Panel Discussion will follow @ 9:30 PM EST.
About this event
The HAPI film presents a snapshot of our economic history spanning from the dawn of civilization to today. It begins by investigating the failure of a 'consumption driven Black economy', systematic poverty, disenfranchisement and the decline of entrepreneurship. It later addresses its complex problems and provides innovative ideas to successfully compete in the global economy.
The underlying theme of the film is the interrelationship between the three essential components of economics, politics and culture. We've brought together some of the brightest minds in psychology, history, and business to explore the "BIG PICTURE"— the history of world economic development and our present socio - economic conditions. Some of cast include: Dr. Leonard Jeffries, Dr. Boyce Watkins, Dr. Julianne Malveaux, Dr. Zahi Hawass, Professor James Smalls, Jabari Osaze and more.
Our goal is to spread economic literacy - essentially creating a dialogue that will enable those to become financially astute. HAPI offers economic solutions that are obtainable and easily implemented. Additionally, it's important to note how politics impacts us economically and then understand how they work in conjunction.
HAPI isn't just a lesson in history, it is a tool that can be applied to your everyday life.
HAPI is more than just a film, it's "a movement of economic literacy".
For more information go to HAPIFilm.com.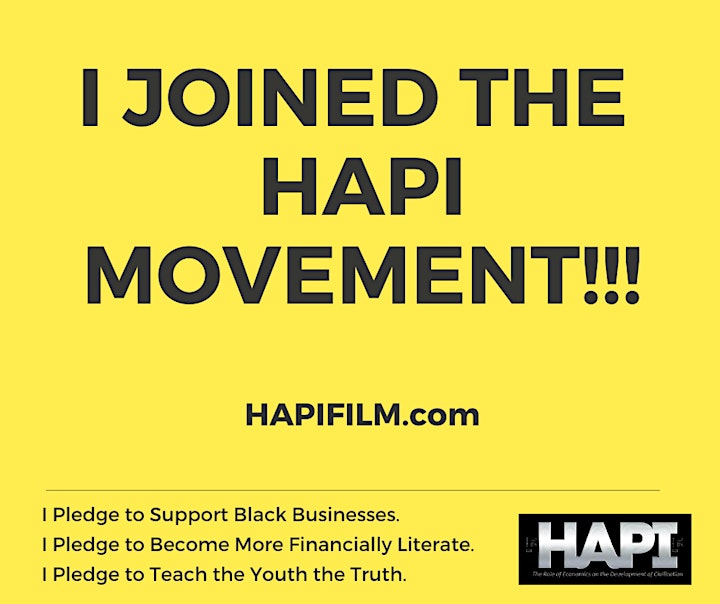 Greetings HAPI Purchasers,
You will be sent a direct link to the movie 15 minutes before (6:45 PM EST.) showtime to the email address you used when purchasing your ticket. A Zoom link will be sent as well IN THE SAME EMAIL for the Panel Discussion that will start at 9:30 PM EST. HAPI will be shown on the VIMEO platform.
Date and time
Refund policy
Contact the organizer to request a refund.
Eventbrite's fee is nonrefundable.
Organizer of HAPI Screening & Panel Discussion Nov. 21@ 7PM EST.
Taaqiy Grant who is the Executive Producer, Writer and Director of HAPI began his journey as a filmmaker in 2006 with the release of a film entitled "NUBIA - The Untold Story.' Mr. Grant then followed that film  with yet another groundbreaking documentary, this one entitled "The Tekhen - Uncovering the influence of Ancient Egypt."  Mr. Grant's goal is to host a series of events to raise awareness for the release of the HAPI film while familiarizing viewers with the principles of trade and competitor commerce through unified community cooperation.  Ultimately Grant says having viewers "understand that building sustainable wealth is just as much about financial relationships as it is about political ones" is an important feature of the film, and key to the role politics has in the development of any civilization. Grant attended Adelphi University in New York. He is active in the World African Diaspora Union (WADU), the Association for the Study of Classical African Civilizations (ASCAC) and the Sudanese Archaeological Research Society based in the British Museum (SARS)