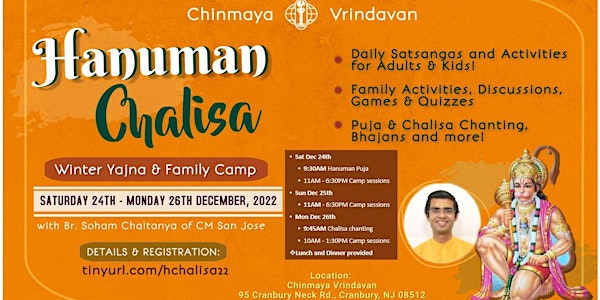 Hanuman Chalisa Family Camp by Br. Soham Chaitanya
Family Day Camp at Chinmaya Vrindavan; Sat Dec 24: 9:30AM - 6:30PM; Sun Dec 25:11AM - 6:30PM; Mon Dec 26: 9:45AM - 1:30PM
When and where
Location
Chinmaya Vrindavan 95 Cranbury Neck Road Cranbury, NJ 08512
About this event
Sri Hanuman is the greatest devotee of Lord Rama. He is the very embodiment of wisdom, devotion and service. This noble son of Wind God (vayu) has innumerable virtues. Generally we are advised that we should imbibe from Sri Hanuman's character, this rare quality of serving our master with unswerving faith and devotion. But little do we realize that before doing so, it is of extreme importance to know who should really be our Master. He who is the Lord of the total universe and in serving whom our potential divinity comes to shine forth; He alone can be our true Master. This truth is seen revealed in the life of Sri Hanuman.
Hanuman Chalisa is the most popular composition of the great Saint Goswami Tulsidas, the author of Tulsi Ramayan. He composed Hanuman Chalisa when he was very sick. He sang the praise of Sri Hanuman and it is said that he recovered from his illness. The significance of singing the glories of the Lord is to purify one's speech and mind.
Brahmachari Soham Chaitanya was born in a spiritual family devoted to Chinmaya Mission. The opportunity to listen to satsangs from various Swamins and Brahmacharins introduced him to spirituality from a very young age. An engineer by background, Soham ji worked as a Research Engineer in Colorado after graduating with a Masters degree from the University of California Berkeley. Listening to the Bhagavad Gita discourses by Poojya Gurudev Swami Chinmayananda ji and Ramayana discourses by Poojya Guruji Swami Tejomayananda ji brought him to Sandeepany Sadhanalaya in Mumbai. He completed the 17th Vedanta Course under the guidance of Poojya Swami Swaroopananda ji and under the tutelage of Poojya Swami Bodhatmananda ji. Prior to joining Sandeepany in 2017, Soham ji served at Chinmaya Mission centers in San Jose, CA and Los Angeles, CA for five years, facilitating youth and adult study groups. Soham ji loves playing the harmonium, singing bhajans and dwelling on the scriptures which talk about the nature of happiness.
Registration is limited and is necessary to ensure the safety of all the devotees.