Hantel Tech Webinar Series: The Use of Nitinol in Medical Devices

Thursday, September 29, 2011 from 11:30 AM to 1:00 PM (PDT)
Event Details
Hantel Technologies is pleased to announce the next seminar in the 2011 – 2012 Hantel Tech webinar series:
The Use of Nitinol in Medical Devices
Speaker:   Louis Malito, NDC
Date:   Thursday, September 29th, 2011
Time:   11:30 AM – 1:00 PM PST
Location:   Hantel Technologies | 703 Sandoval Way | Hayward, CA
The first 30 minutes will be used as a networking session, and the seminar (webinar link on hanteltech.com website) will begin at noon.
You are cordially invited to attend in person (lunch provided / limited number of seats), to join live via Webinar, or to view at a later date (links will be posted on Hantel website at http://hanteltech.com). Please register on Event Brite for this free seminar - and select how you would like to participate.
-----------------------------------------------------
Abstract:
Given the alloy's complex shape memory and superelastic properties, nitinol is an intermetallic compound that has found widespread use in the medical device field. Medical devices such as peripheral stents, inferior vena cava (IVC) filters, and guide wires all use nitinol's superior strain accommodation capabilities in their application. Combined with the right post-processing techniques, nitinol can also exhibit lasting biocompatibility. Mr. Malito will share a general overview of the unique properties of nitinol and its engineering challenges. Topics to be discussed include material applications, basic nitinol crystallography, engineering aspects, and processing techniques.
Louis Malito is a junior research and development engineer at Nitinol Devices and Components (NDC), an independent, privately held company exclusively focused on Nitinol technology. Louis is a graduate of the University of California, Davis (UCD), where he received his bachelors degree in biomedical engineering with an emphasis in medical device design. Louis served as an advisor to the UCD department of Biomedical Engineering on implementing a medical device-based curriculum. Louis has also served as Vice President of the UCD student chapter of the Biomedical Engineering Society (BMES). His passion for science and engineering culminated in a student project his senior year (designing and prototyping a nitinol stent as a solution to pericardial effusion) -- this experience steered him to explore the world of nitinol engineering.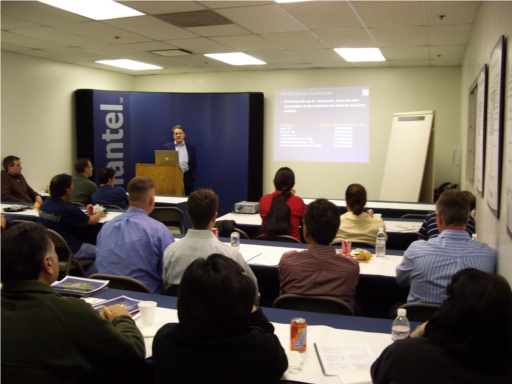 Since 2007, Hantel Tech has hosted a webinar series forum for the medical device community in the Bay Area generally on the fourth Thursday (noon) of each month. Please feel free to peruse former seminars in the series available via the hanteltech.com website and contact us at webinar@hanteltech.com for more information.
When & Where

Hayward, 94544


Thursday, September 29, 2011 from 11:30 AM to 1:00 PM (PDT)
Add to my calendar
Organizer
Hantel was founded in 1999 with a vision of a company that would bring medical devices to market, with all services provided under one roof. Since then, Hantel has become a leader in contract design and manufacturing, having developed hundreds of products for a wide array of applications. Hantel retains a highly qualified and diverse workforce with expertise in all aspects of medical device development and manufacturing. Located near the heart of Silicon Valley, Hantel is convenient and accessible to a wide array of device and bio-tech firms. Providing fast and flexible service, Hantel was built to meet your needs.