Hantel Tech Webinar Series: Integrating Market Research into the Product Development Process

Thursday, April 5, 2012 from 11:30 AM to 1:00 PM (PDT)
Event Details
Hantel Technologies is pleased to announce the next seminar in the 2011 – 2012 Hantel Tech webinar series:
Integrating Market Research into the
Product Development Process

Speaker:   Barry Zakar, Intellimed Consulting

Date:  Thursday, April 5th March 29th, 2012
Time:   11:30 AM – 1:00 PM PST
Location:   Hantel Technologies | 703 Sandoval Way | Hayward, CA

The first 30 minutes will be used as a networking session, and the seminar will begin at noon. The webinar link will be sent out the day before the event.
You are cordially invited to attend in person at Hantel Tech (lunch provided / limited number of seats), to join live via Webinar, or to view at a later date (links will provided to registrants and to those who request notification). Please register on Event Brite for this free seminar - and select how you would like to participate.
-----------------------------------------------------
Abstract:
Integration of market research into product development is among the most important aspects of the process, yet is frequently omitted, poorly implemented or its implications misunderstood.  The effort, time and cost of good market research integration into product development is far less than the cost of the development and introduction of medical devices that do not address unmet clinical needs, or are poorly designed for their end users or clinical environment.
     This presentation will define market research as it applies to product development, review the research types and sources, and discuss where and how market research makes a difference in product development, both for new products, and at various points in the product life cycle.
     Market research is not an optional part of product development, but is as essential to the process as product specifications, hardware/software validation and COG determination, all of which significantly benefit from market research.  Today's product development professionals actively seek market input and get involved in the process early on to assure the introduction of well-designed medical devices that meet customer needs and contribute to improved clinical outcomes.
Barry Zakar has over 25 years experience in the medical device industry, marketing capital medical equipment, disposables and implantables to multiple medical specialties in both the hospital and office practice market sectors. Barry has developed expertise in creating new markets for innovative medical technologies in entrepreneurial environments. As Principal at Intellimed Consulting, Barry has provided guidance in strategic marketing, clinical and reimbursement issues, and market development and tactical implementation to early-stage domestic and Australian companies. 
     Prior to founding Intellimed Consulting, he was a Director, Center for Business Intelligence at Edwards Lifesciences in Irvine, CA, where his primary role was the acquisition and integration of primary market research into the new product/new business identification and development process. He has also worked with AUSTRADE in assisting several dozen Australian lifesciences companies with product commercialization and entry into U.S. markets. Barry is also associated with the Sacramento Area Regional Technology Alliance (SARTA) programs: MedStart, VentureStart, CEO Forum; UC Davis, and Partnership for Innovation (PFI), a NSF grant-funded program.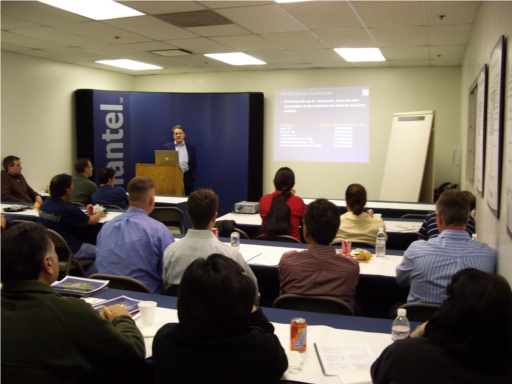 Since 2007, Hantel Tech has hosted a webinar series forum for the medical device community in the Bay Area generally on the fourth Thursday (noon) of each month. Please feel free to peruse former seminars in the series available via the hanteltech.com website and contact us at webinar@hanteltech.com for more information.
Have questions about Hantel Tech Webinar Series: Integrating Market Research into the Product Development Process?
Contact Hantel Technologies
Organizer
Hantel was founded in 1999 with a vision of a company that would bring medical devices to market, with all services provided under one roof. Since then, Hantel has become a leader in contract design and manufacturing, having developed hundreds of products for a wide array of applications. Hantel retains a highly qualified and diverse workforce with expertise in all aspects of medical device development and manufacturing. Located near the heart of Silicon Valley, Hantel is convenient and accessible to a wide array of device and bio-tech firms. Providing fast and flexible service, Hantel was built to meet your needs.