Hantel Tech Webinar Series: 3D Printing for the Rapid Product Development of Medical Devices

Thursday, May 3, 2012 from 11:30 AM to 1:00 PM (PDT)
Event Details
Hantel Technologies is pleased to announce the next seminar in the 2011 – 2012 Hantel Tech webinar series:
3D Printing for the Rapid Product Development of Medical Devices
Speaker:   Dylan Oliver (for Rich Stump, Fathom, formerly Kemeera)

Date:  Thursday, April 26th May 3rd, 2012
Time:   11:30 AM – 1:00 PM PST
Location:   Hantel Technologies | 703 Sandoval Way | Hayward, CA

The first 30 minutes will be used as a networking session, and the seminar will begin at noon. The webinar link will be sent out the morning before the event.
You are cordially invited to attend in person at Hantel Tech (lunch provided / limited number of seats), to join live via Webinar, or to view at a later date (links will provided to registrants and to those who request notification). Please register on Event Brite for this free seminar - and select how you would like to participate.
-----------------------------------------------------
Abstract:
It's no wonder why three-dimensional (3D) printing has already made a huge impact in the product development and engineering industries. The ability to produce functional models in mere hours, at a fraction of the cost, is crucial to the fast-paced environments of product design and engineering. Cost and time savings are the primary drivers for incorporating 3D printing into the product development process. Having this technology at their fingertips gives them the freedom for unleashing creativity and efficiency during the design process. 3D printing technologies are especially suited for medical device development, and include the use of biocompatible printing materials (including cytotoxicity, irritation, sensitization, and USP Class VI testing). The ability to print thin walls (0.6 and thinner) combined with accuracy (0.1 mm) allow for the development of implants, drug delivery systems, diagnostic equipment, clinical laboratory instruments, surgical devices, and packaging. This seminar will outline the rapid product development technologies available for the medical field, with a focus on 3D printing applications on clinical and medical equipment, such as hearing aids.
Richard "Rich" Stump is a principal of Kemeera (soon to be Fathom), a 3D printing/rapid prototyping and product development company in the San Francisco Bay area. Through his experience in product development and taking products to market, Rich has been instrumental in several successful companies. He has 15 years of experience in sales and product development in industries, including retail, electronic contract manufacturing, high tech software and rapid prototyping and manufacturing. His credentials include the development and growth of three other successful product developments businesses and World Wide Dominator award at ANSYS Inc. (ANSS) in 2006.
Rich has recently helped start and grow a company called Simple Wave, LLC, which owns and makes the CaliBowl™ brand. Through his experience in product development and taking products to market, Rich has a vast amount of knowledge on how to strategically approach the market with new ideas while utilizing market leading technologies.
Dylan Oliver is the Northwest Accounts Manager for Fathom: he got his start in the prototyping world at the University of Washington (UW). At UW, he participated in an independent study with the Seattle Children's Hospital to convert CT scan data into physical surgical planning models using stereo-lithography.  After college he transitioned to Los Angeles for several years, and managed two rapid prototyping service bureaus, where he gained valuable experience operating, maintaining and managing prototyping equipment.  He has since moved back home to Seattle, and teamed up with Fathom to help further growth and expansion in the Pacific Northwest.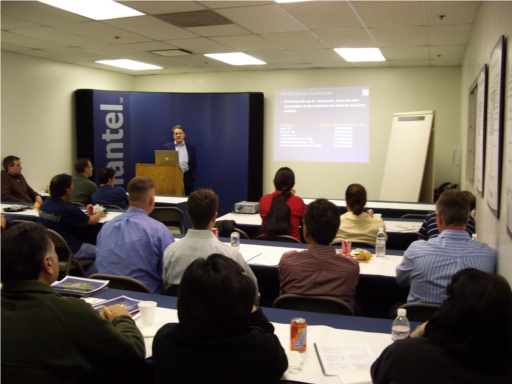 Since 2007, Hantel Tech has hosted a webinar series forum for the medical device community in the Bay Area generally on the fourth Thursday (noon) of each month. Please feel free to peruse former seminars in the series available via the hanteltech.com website and contact us at webinar@hanteltech.com for more information.
Have questions about Hantel Tech Webinar Series: 3D Printing for the Rapid Product Development of Medical Devices?
Contact Hantel Technologies
When & Where

Hantel Technologies
703 Sandoval Way
Hayward, CA 94544


Thursday, May 3, 2012 from 11:30 AM to 1:00 PM (PDT)
Add to my calendar
Organizer
Hantel was founded in 1999 with a vision of a company that would bring medical devices to market, with all services provided under one roof. Since then, Hantel has become a leader in contract design and manufacturing, having developed hundreds of products for a wide array of applications. Hantel retains a highly qualified and diverse workforce with expertise in all aspects of medical device development and manufacturing. Located near the heart of Silicon Valley, Hantel is convenient and accessible to a wide array of device and bio-tech firms. Providing fast and flexible service, Hantel was built to meet your needs.