Location
Sofitel Los Angeles at Beverly Hills
8555 Beverly Boulevard
Los Angeles, CA 90048
Description
Annual Hanté Sofitel Halloween Party 2016 at Hotel Sofitel LA
Summary
Sofitel Halloween 2015: Hanté Sofitel Costume Party on October 28th 2015 (Friday) 9:30 PM at Hotel Sofitel located at 8555 Beverly Blvd, Los Angeles, CA 90048.
LOS ANGELES, CA – On Friday, 28th October 2016, costumed revelers take over the luxurious Sofitel Los Angeles At Beverly Hills, to celebrate a wickedly stylish Halloween party complete with deliciously sinister Halloween fun. It's an exclusive fete where sexy socialites, sinful celebutantes and vampy model types come together for a devilishly good time - "The Hanté Sofitel," a costume party with DJ sets, on Friday, October 28, 2016 – 9:30pm to 2am.
All the temptations you can ever ask for will be on hand at the Hotel Sofitel, creating an indulgent, smoking hot Halloween party atmosphere. The Hanté Sofitel Halloween promises to deliver a white-hot evening, with Estérel and Riviera 31playing everything from hip-hop and house to top 40. Get ready to have the time of your life at "The Hanté Sofitel," where the infamous rub shoulders with the famous, at Sofitel Los Angeles at Beverly Hills. More information available online at www.madenightlife.com
Don your most seductive costume and head to the luxurious hotel Sofitel located at 8555 Beverly Blvd, Los Angeles, CA 90048. This is one event that guests will be checking in... And dying not to check out… Buy Halloween tickets now online: www.hantesofitel2016.eventbrite.com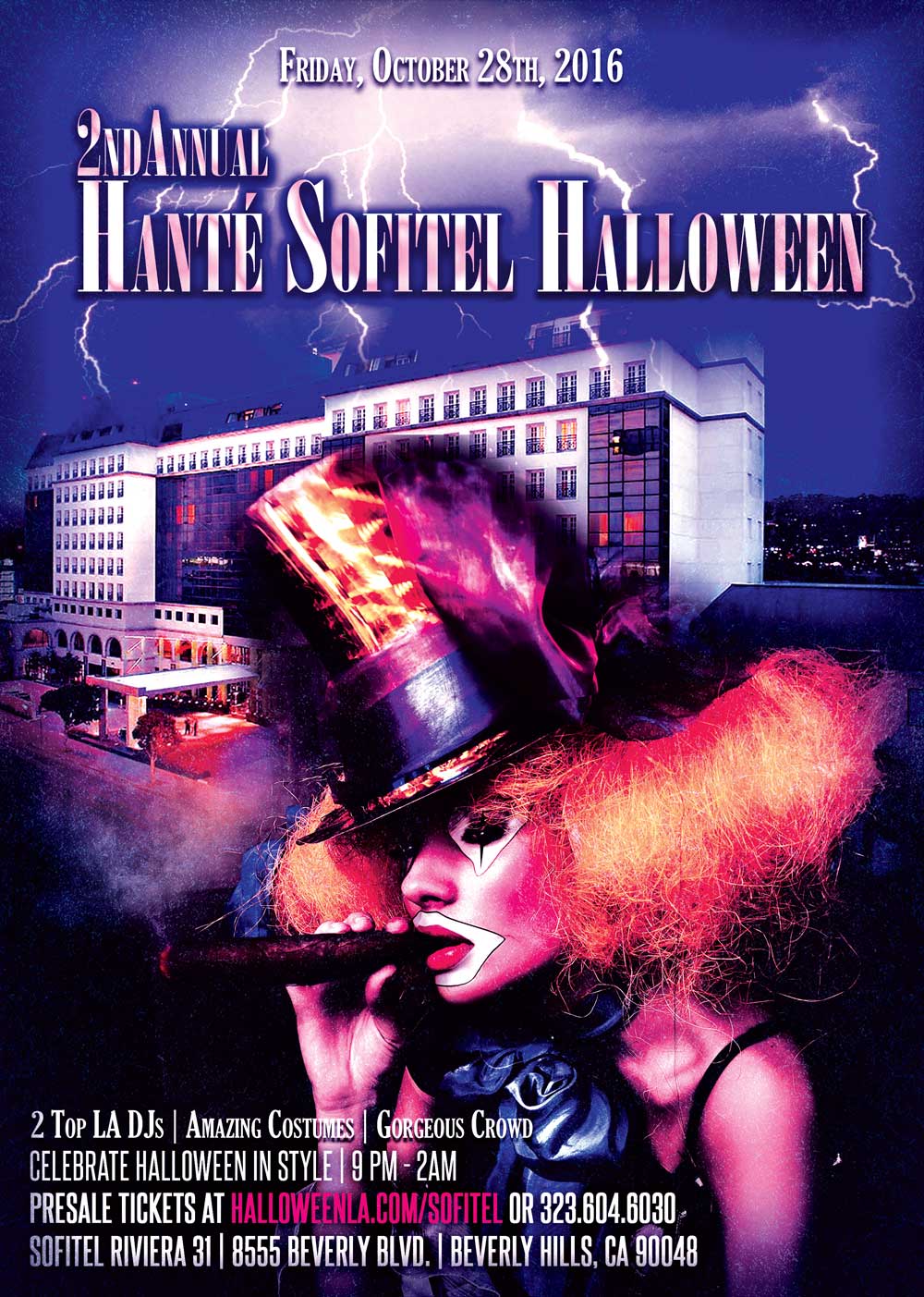 About Sofitel Los Angeles At Beverly Hills
Sofitel Los Angeles at Beverly Hills is a stunning hotel in LA offering elegant luxury accommodations and dramatic decor with an ambiance that combines see-and-be-seen excitement and the calm of an urban resort. Discover a unique blend of French fashion mixed with Hollywood glamour at this elegant hotel. Savor the distinctive and delicious cuisine of the Mediterranean at Estérel, our new contemporary French restaurant, as well as entertainment nightly at Riviera 31. In this chic, urban escape, you'll enjoy a Sofitel experience that enchants intrigues and refreshes.
About MADE Nightlife
Let MADE Entertainment transform your day into an extraordinary affair celebrating all that is important in your life. We will take you there. From steaming Bali nights to winter white wonderlands, MADE will transport 25-2500 of your closest guests to the destination of your choice. Providing high-end corporate, entertainment, sporting and social events planned from event concept to contract negotiations, vendor relations, event management, marketing and promotions. MADE Entertainment will handle it all.