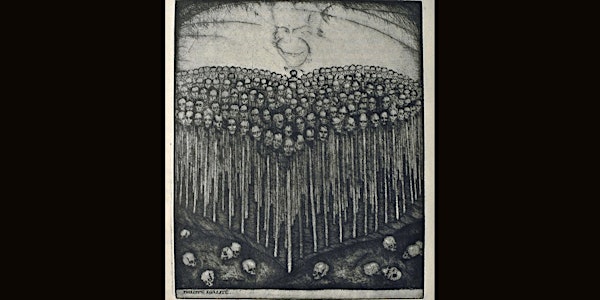 Hanns Heinz Ewers and the Horrors of the 20th Century
This lecture explores the work of Hanns Heinz Ewers as part of the German tradition of horror and fantasy fiction.
When and where
Location
Film Noir Cinema 122 Meserole Avenue Brooklyn, NY 11222
About this event
The work of German author Hanns Heinz Ewers (1871 - 1943) combines the lush cruelty of the French Decadents, the macabre thrills of Edgar Allan Poe, and esoteric, occult philosophy into a heady literary brew. Publishing his horror tales in the years leading up to World War I and through Germany's tumultuous Weimar Republic, Ewers emerged as a multifaceted artist and highly individualistic person: outspoken thinker, prolific author, vaudeville performer, and early proponent of cinema as a legitimate art form. His novel Alraune, which details the story of a doctor whose theories of mad science and folklore lead to the birth of a completely amoral woman, has been called a "decadent masterwork" and has been adapted for the screen five times. Ewers would become a prominent figure in the brief flowering of German weird fiction between the World Wars, influencing the establishment of the world's first fantastical fiction magazine, Der Orchideengarten. However, Ewers' career–along with that of several of his contemporaries–would turn from lurid fantasies to real-world evil, finding him associated with the Nazi propaganda machine. This lecture explores the work of Ewers as part of the German tradition of horror and fantasy fiction, alongside the historical, social, and political forces that would have an impact on his work and ultimately lead to a collision with one of the most horrific political regimes of the 20th century.
About the Instructor
Tenebrous Kate is a New Jersey-based writer and artist whose work explores her long standing fascination with all things dark, fantastical, and forbidden. She is the co-host of the literary podcast Bad Books for Bad People and has issued limited run publications under her micro-publishing imprint Heretical Sexts. Her work has been featured in a variety of publications including Heathen Harvest, Occult Rock, Slutist, and Ultra Violent Magazine. She has created artwork for a variety of clients ranging from boutique perfumier Black Phoenix Alchemy Lab to German black metal band Porta Nigra. Kate has hosted retro screenings at Alamo Drafthouse and has appeared in pop culture variety shows including Kevin Geeks Out, Meet the Lady, and Bonnie and Maude. Her long-running blog, Love Train for the Tenebrous Empire, cataloged her encounters with offbeat cinema, literature, and art.
--
Please check with your local health authority on the current requirements for masks and vaccination for attending live events. All sales are final.