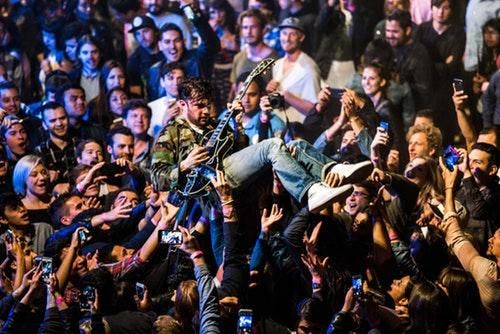 About this Event
$15 (advance), $17 // 21+
----------
On his 2011 debut 'Will The Guns Come Out,' HANNI EL KHATIB tried something he'd never tried before -- making a bedroom-style recording of his then stripped-to-the-skeleton guitar-and-drums rock 'n' roll mostly for the sheer joy of making it. For his ferocious 2013 follow-up 'Head In The Dirt,' he tried something new again, showing up at producer Dan Auerbach's analog-dreamland Nashville studio with nothing but the clothes on his back and an open mind.
But after 'Head In The Dirt''s release and almost a year of relentless touring, Hanni knew he needed to go past 'unpredictable' all the way to 'unprecedented.' He needed isolation, time and the chance to experiment. So after 30 days locked in hand-picked L.A. studio The Lair, the result is the album 'Moonlight' -- the rarest and most welcome kind of album, made at that perfect point in life where confidence, experience, and technique unite to help an artist do anything they want.
THE BUTTERTONES started their own journey in 2011 as three music school misfits (or drinking buddies, they say) in the heart of Hollywood. Now primed, grimed and greased up THE BUTTERTONES are ready to take our stage hostage for an hour and give us a taste of that sweet fatty California cream. Their latest record, Gravedigging is more a movie waiting to happen than an album—or a soundtrack just waiting to inspire a movie, with scene after scene of action, tension and release set to a sound that takes everything good and true about American music before the Beatles prettied it up (surf, sweet soul, the boss saxophone-overdrive garage of the Northwest wailers like the Sonics) and matches it to punk energy, post-punk precision and the kind of personality that blows the circuit-breakers at a backyard party.