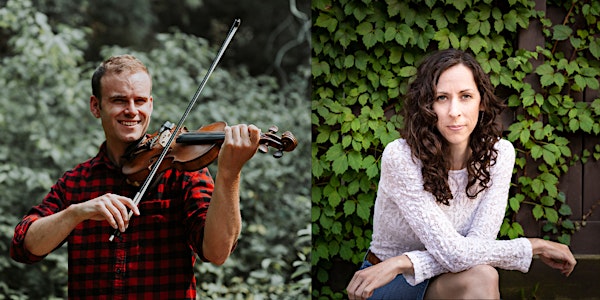 Hannah Shira Naiman and Nathan Smith live in concert
Live banjo & fiddle music and singing in English and French from award-winning musicians
When and where
Location
Knowhere Public House 130 Elm Street Greater Sudbury, ON P3C 1T6 Canada
Refund Policy
Contact the organizer to request a refund.
Eventbrite's fee is nonrefundable.
About this event
Tickets: $25 ($20 with promo code EARLYBIRD until Nov 23!)
Wednesday December 7th 7pm, come early to grab a bite to eat and get a good seat!
Knowhere Public House, 130 Elm St, Sudbury, Ontario
Named traditional singer of the year at the Canadian Folk Music Awards for her album "Know the Mountain" (2017) and currently on tour supporting her new album "The Wheels Won't Go", Hannah Shira Naiman combines her powerful songwriting and impressive musicianship to deliver exciting contemporary versions of traditional music she was raised on.
With an Ontario Arts Council creation grant, Hannah has again used this approach to develop songs for her new record, "Wheels Won't Go." These most recent songs are reflective of the challenges of new motherhood, cold winters in northern Ontario, and the coronavirus pandemic – including her single, "Vinegar Pie," which captures the struggle, and powerlessness of waiting. Hannah says these new songs are not candy coated, but they are honest and authentic. And there's a love song in there, too, plus a spirited tribute to her daughter.
Hannah says that growing up, music was a given. Naiman's parents are both musicians; and, as a child, they brought her to folk music festivals and traditional music and dance camps that remained constants in her life. Eventually, Hannah took ownership or those experiences, and began to lead songs and dances, contribute to them, and create them. The music Hannah writes borrows stories, images, and language from traditional Appalachian music. She plays a style of banjo called "clawhammer," which is based in syncopated rhythms. Hannah says these rhythms and phrases naturally drive her songwriting towards a traditional style.
www.hannahshiranaiman.com
Instagram: @hannahshiranaiman
Facebook: www.facebook.com/HannahShiraNaiman.Music
Nathan is a Toronto-based fiddle player and singer-songwriter, originally hailing from North Bay, ON. His upbeat and soulful original songs and fiddle tunes combine his bluegrass and old-time experience with his upbringing playing celtic and traditional Canadian fiddle music.He performs with a number of ensembles, including his dynamic multi-instrumental band Vinta, bluegrass band The Barrel Boys, western swing outfit The Double Cuts, and Métis fiddle trio The Red River Ramblers.
His debut solo album, "Let It Rest, Let It Rise" was released in February of 2020. It features an ensemble of veteran Toronto musicians and a full complement of his new original material. Nathan's evocative lyrics and melodies roll over hilltops, echo off mountainsides, and flow down freshwater streams to excite the ears and touch the souls of audiences across Canada.
"Nathan Smith's blend of traditional folk songwriting and old-time chamber music is a refreshing pleasure to listen to, and was a true joy to record. The freedom of interplay between the incredible musicians has made a uniquely exciting and rich recording of beautiful acoustic music." -Don Kerr, Rooster Studios, Toronto, ON (Producer, Engineer - "Let It Rest, Let It Rise")
www.nathansmithmusic.net
vinta.bandcamp.com
Instagram: @nathanonfiddle
La joueuse de banjo Hannah Shira Naiman et le violoneux Nathan Smith se sont rencontrés lors d'un concert de la maison en hiver. Ils se sont rapidement liés d'amitié, partageant leur amour du chant harmonique, de l'écriture de chansons et de la célébration de vieilles chansons et d'airs de violon. Depuis lors, ils ont uni leurs forces pour des jams, des danses carrées, des enregistrements d'albums, et ils ont enfin la possibilité de jouer leur musique ensemble en duo.
Honorée du titre de "chanteuse de l'année – traditionnelle" aux prix de musique folk canadienne pour son album Know the Mountain (2016), Hannah Shira Naiman combine son écriture puissante et son impressionnante musicalité pour offrir des versions contemporaines passionnantes de la musique traditionnelle sur laquelle elle a été élevée. Cet automne, Hannah a sorti son troisième album complet tant attendu, The Wheels Won't Go ; avec des chansons inspirées par son déménagement de Toronto au nord de l'Ontario, la pandémie de COVID et son expérience de maternité.
www.hannahshiranaiman.com
Instagram: @hannahshiranaiman
Facebook: www.facebook.com/HannahShiraNaiman.Music
Originaire de North Bay, Ontario, Nathan Smith est un violoniste et un auteur-compositeur-interprète dont les chansons et les airs de violon originaux, optimistes et pleins d'âme, combinent une grande expérience de la musique bluegrass et de la musique old-time avec une vie entière consacrée aux airs de violon traditionnels canadiens. Son premier album "Let it Rest, Let it Rise", sorti en 2020, présente un éventail de compositions inspirées par la famille, la communauté et le paysage nordique.
www.nathansmithmusic.net
www.vintamusic.com
This event is co-hosted by the lovely folks at Knowhere Public House. Thanks to Kaitlin and Bill and staff for offering their venue to us and for helping promote traditional music.
Please do take advantage of their great menu & drinks, which include local ingredients and producers.
facebook.com/knowhere.public.house
sudburyfolktrad.ca
call Lou at 613-866-6610