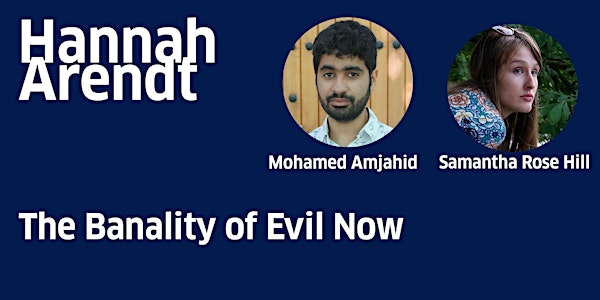 Hannah Arendt and The Banality of Evil Now
Discussion on modern-day interpretation of Hannah Arendt's "banality of evil" concept.
When and where
Location
Goethe-Institut Washington 1377 R St. NW Ste 300 Washington, DC 20009
About this event
COVID-19 Admission Policy for Goethe-Institut Washington: as of March 1, 2022, the Goethe-Institut Washington requires that all guests be fully vaccinated against COVID-19. Negative tests or exemptions in lieu of vaccine proof will not be accepted. Please present proof of vaccination and valid government-issued photo ID at the door; mask-wearing will be enforced full-time within the building.
The sad truth is that most evil is done by people who never make up their minds to be good or evil.
― Hannah Arendt, The Life of the Mind
Fifty years ago German writer and political thinker Hannah Arendt coined the phrase "the banality of evil" while covering the Eichmann trial for The New Yorker. Her reports were revolutionary in form and content and highly controversial. Taking her thinking as a reference point Arendt biographer Samantha Rose Hill and author and journalist Mohamed Amjahid will discuss the construction or re-invention of evil in contemporary discourses, be it the catastrophe in Ukraine or at the borders of the EU. Why are Arendt's perceptions still relevant today, delving deeply into systems that drive our moral standards and behavior. Can evil occur anywhere and any time? And what does it have to do with Totalitarianism?
Samantha Rose Hill is the assistant director of the Hannah Arendt Center for Politics and Humanities and visiting assistant professor of political studies at Bard College. She is also associate faculty at the Brooklyn Institute for Social Research. She is the author of the biography Hannah Arendt (2021, Reaktion Books) and is writing a book about Hannah Arendt's poems (forthcoming 2022, Liveright). She is currently writing a book on loneliness for Yale University Press, and working on a memoir about the inheritance of rootlessness. Samantha has given lectures for universities and think tanks and writes for a large number of magazines and other outlets, including Los Angeles Review of Books, Contemporary Political Theory, and The South Atlantic Quarterly.
Mohamed Amjahid studied political science in Berlin and Cairo, and conducted research on various anthropological projects in North America. Mohamed is a political reporter for the weekly newspapers Die Zeit and das Zeit Magazin. Anthropologically and journalistically, Amjahid focuses on human rights, equality, and upheaval in the United States, Europe, the Middle East, and North Africa. Amjahid is a 2020 Thomas-Mann Fellow.