Sales Have Ended
Ticket sales have ended
Online Registration has closed for this event. To register, please contact Jeannie Allen at jallen@hanleyleadership.org.
Sales Have Ended
Ticket sales have ended
Online Registration has closed for this event. To register, please contact Jeannie Allen at jallen@hanleyleadership.org.
Description
Thanks to the generous support of the Davis Family Foundation, the Daniel Hanley Center for Health Leadership is pleased to present our Hanley Forum 2019:
Inspiring Leadership for Sustainable Community Health Improvement:
Addressing Maine's Social Needs and Social Determinants of Health
Keynote Speakers
Soma Stout, MD, Institute for Healthcare Improvement
Donato Tramuto, CEOTivity Health, The Tramuto Foundation & Health eVillages

The Daniel Hanley Center for Health Leadership is convening a statewide audience of healthcare, education, and community leaders to address the stigma and effects of both unmet social needs and social determinants of health on Maine citizens and communities. Afterward, the Hanley Center will facilitate a workgroup process with volunteer stakeholders who are energized and positioned to either launch a new initiative or replicate an existing successful one to help improve health conditions in specific Maine communities. Progress of the workgroups will be presented at a reconvene meeting on December 9, 2019 as part of the Hanley Center's Annual Meeting.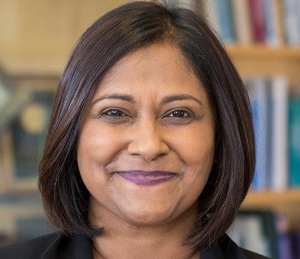 Somava (Soma) Stout, MD, MS, Vice President, Institute for Healthcare Improvement (IHI), is deeply committed to improving health, wellbeing, and equity globally. A global public health practitioner for more than 20 years, she has also worked as a safety net primary care internist and pediatrician. She serves as Executive Lead of 100 Million Healthier Lives, convened by IHI, which brings together hundreds of partners across sectors and communities to support 100 million people globally to live healthier lives by 2020.
Dr. Stout has consulted with health system leaders from across the world in Guyana, Sweden, the UK, Singapore, Australia, Tunisia, and Brazil. Previously, she served as Vice President for Patient Centered Medical Home Development at Cambridge Health Alliance (CHA), where she led a whole system transformation that garnered numerous national awards for achieving breakthrough results in health outcomes and cost. She also served as Co-Director of Leadership Development at the Harvard Medical School (HMS) Center for Primary Care, where she helped develop a cadre of change leaders across the system. She continues as faculty at both CHA and HMS. In 2012, Dr. Stout was recognized as one of ten inaugural Robert Wood Johnson Foundation Young Leaders for her contributions to improving the health of the nation.


Donato J. Tramuto is the CEO of Tivity Health, Inc., a leading provider of fitness and health improvement programs, with strong capabilities in developing and managing network solutions. A recognized innovator and industry leader, he has more than 35 years of healthcare experience, with a deep commitment to global healthcare access, a steadfast focus on patient outcomes and a keen understanding of digital solutions.
Tramuto joined Tivity Health's board in 2013 and became chairman in 2014. In 2008, he founded Physicians Interactive Holdings (now Aptus Health), a global provider of insight-driven digital engagement solutions for healthcare professionals and consumers, where he served as CEO and chairman prior to joining Tivity Health. In 2011, Tramuto founded Health eVillages, a non-profit organization which provides state-of-the-art mobile health technology in the most challenging clinical environments. He is also the chairman and founder of the Tramuto Foundation, which helps individuals and organizations achieve their educational and healthcare goals.
Tramuto has been widely recognized for his more than three-decade commitment to social change. In 2014, he was honored alongside Hillary Clinton, Robert DeNiro, and Tony Bennett, with the prestigious Robert F. Kennedy Ripple of Hope Award. In 2015, he received an honorary doctorate of humane letters from the College of Fine Arts at the University of Massachusetts at Lowell.
Tramuto serves on several executive leadership boards, including the board of the Boston University School of Public Health, the Livongo Health Foundation, the Brown University Healthcare Leadership Board, the board of directors for Sharecare, Inc., and the board of Safe Harbor Compliance and Clinical Development. In 2016, he was appointed to the board of Robert F. Kennedy Human Rights. He is also chairman of the board of Robert F. Kennedy Center for Justice & Human Rights Europe.

Same day registration will be available. Please note that as of April 15th we cannot guarantee inclusion on the printed participant list.
--


Organizer of Hanley Forum 2019
The Daniel Hanley Center for Health Leadership is an independent, 501(c)3 nonprofit, statewide organization dedicated to inspiring and growing collaborative leaders to solve today's health challenges. We envision a world in which health leaders, in their quest to strengthen the health of communities, incorporate the Hanley Center's values of collaboration, courage, inclusion, innovation, hard work and kindness.