Hank Williams Sr. Anniversary and Holiday Party at Historic Herzog With Dan...
Description
Join us for an evening of Hank tribute and holiday songs.
Doors at 7pm
Show starts at 8pm
The Hiders
Jeremy Pinnell
Lisa Walker
Daniel Martin Moore
Brian Turpen (Hank Williams author and historian)
Elliott Ruther will be hosting the evening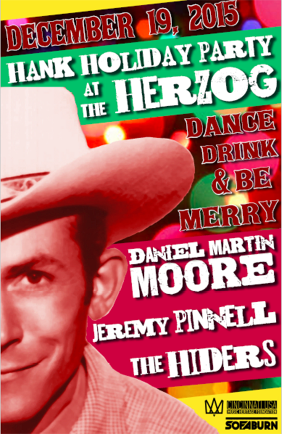 Hank ran through the song with the top notch session players hired from WLW Radio, which was located right around the corner from the studio. When steel guitarist Jerry Byrd asked when he should take a break, Hank told him to come in when he stomped his foot. Listening to the playback of the one take, some of the musicians thought the performance was awful and out of meter. Byrd asked, "Hank, you ain't going to put this thing out, are you?" Hank replied, "Well, maybe we'll put it out as a B side."
The song, "Lovesick Blues" would make Hank William a superstar after its release in May 1949. It stayed No. 1 on the Billboard charts for four months and was still on the charts in January 1950. The success with "Lovesick Blues" led to an invitation to join the Grand Ole Opry, where he debuted on June 11, 1949, singing "Lovesick Blues" with an unprecedented six encores. He would returned to the Herzog Studios on August 30, 1949 to recapture the chemistry with the same studio musicians. On that day, "I 'm So Lonesome I Could Cry" was recorded.