Description
Remember when MTV actually played music videos instead of all those ratchet reality TV shows? At one time, music videos were a really BIG DEAL! C'mon… you know you used to race home after school to watch The Box ("Music Television You Control"), and Video Soul or Rap City on BET. If you were in NYC back then, you remember how we lived for Video Music Box with Ralph McDaniels and The Bobby Simmon's show. But no matter where you grew up, chances are that at some point you spent time watching music videos – imitating the dance moves, learning the lyrics, and copy the fashion trends… Man, those were the days! Well, The Alumni Group is taking you on a trip down memory lane at our Video Music Brunch. Along with our delicious brunch food specials, we'll not only be spinning the classics, we'll also be showing off the visuals that go along with them. Enjoy our dope music video playlist, featuring your old school favorites as well as the new-new hotness, as you sip on unlimited brunch cocktails. The song says that "videos killed the radio star", but at this brunch we'll celebrate the role videos have played in shaping our culture over the years. Trust us, you won't want to miss this visual, audio, culinary experience!
*Contact host/organizer to accommodate birthdays/special occasions and large parties.*
***If you are celebrating a birthday inquired about Music Video Trivia Contest and compete to win a bottle of champagne for the birthday guest.***
****Please use #TAGBRUNCH when sharing socially.****
MEDIA DISCLAIMER, photos and videos are occasionally taken at our events. The Alumni Group reserves the right to use any photograph/video without the expressed written permission of those included within the photograph/video. The Alumni Group may use the photograph/video in publications or other media material produced, used or contracted by The Alumni Group including but not limited to: brochures, invitations, books, newspapers, magazines, television, websites, etc
***DUE TO THE OVERWHELMING DEMAND FOR THIS EVENT EARLY ARRIVAL IS HIGHLY SUGGESTED. THIS IS A FIRST COME, FIRST SERVED EVENT SO RSVP'S DO NOT GUARANTEE SEATING SO PLEASE COME EARLY!!!!***
BIRTHDAYS AND LARGE PARTIES ARE ENCOURAGED TO ARRIVE EARLY (12-2PM)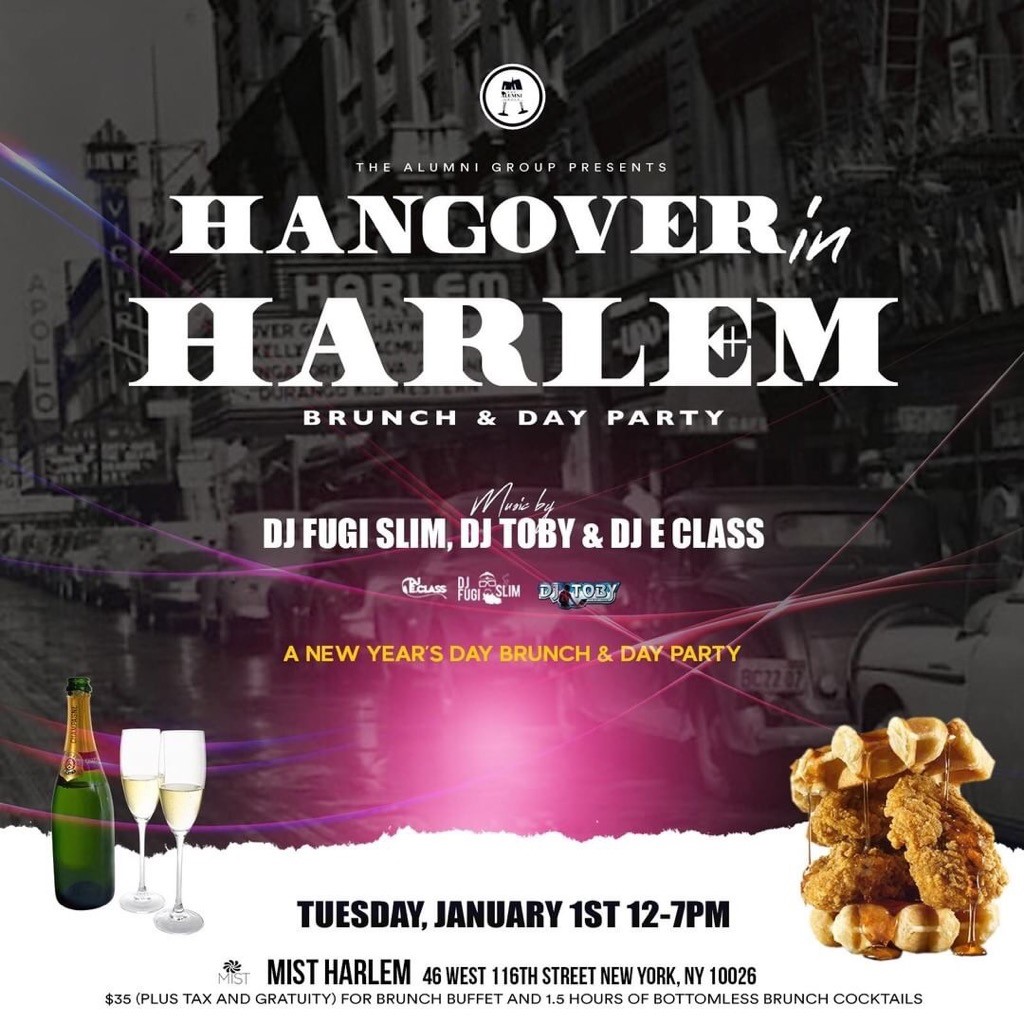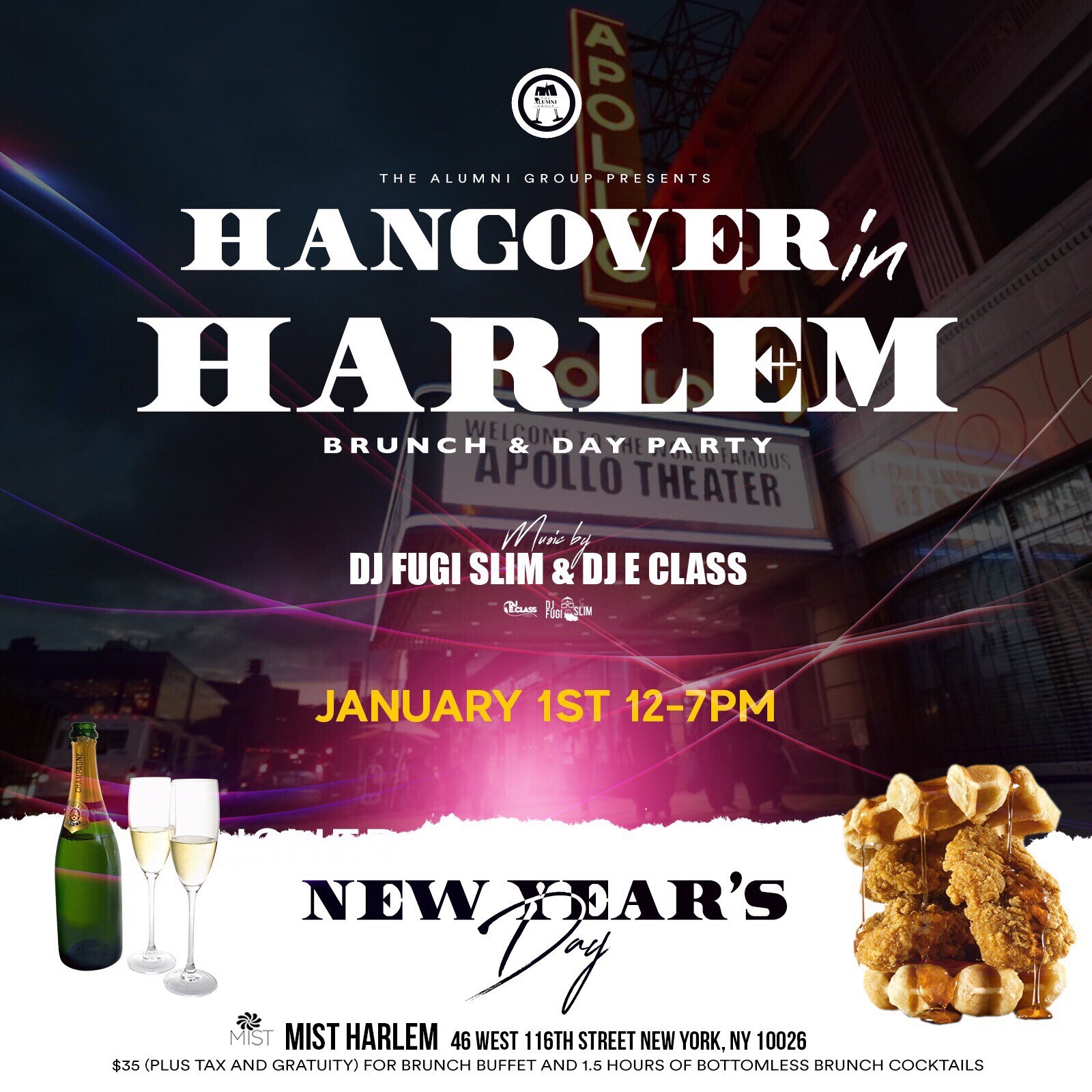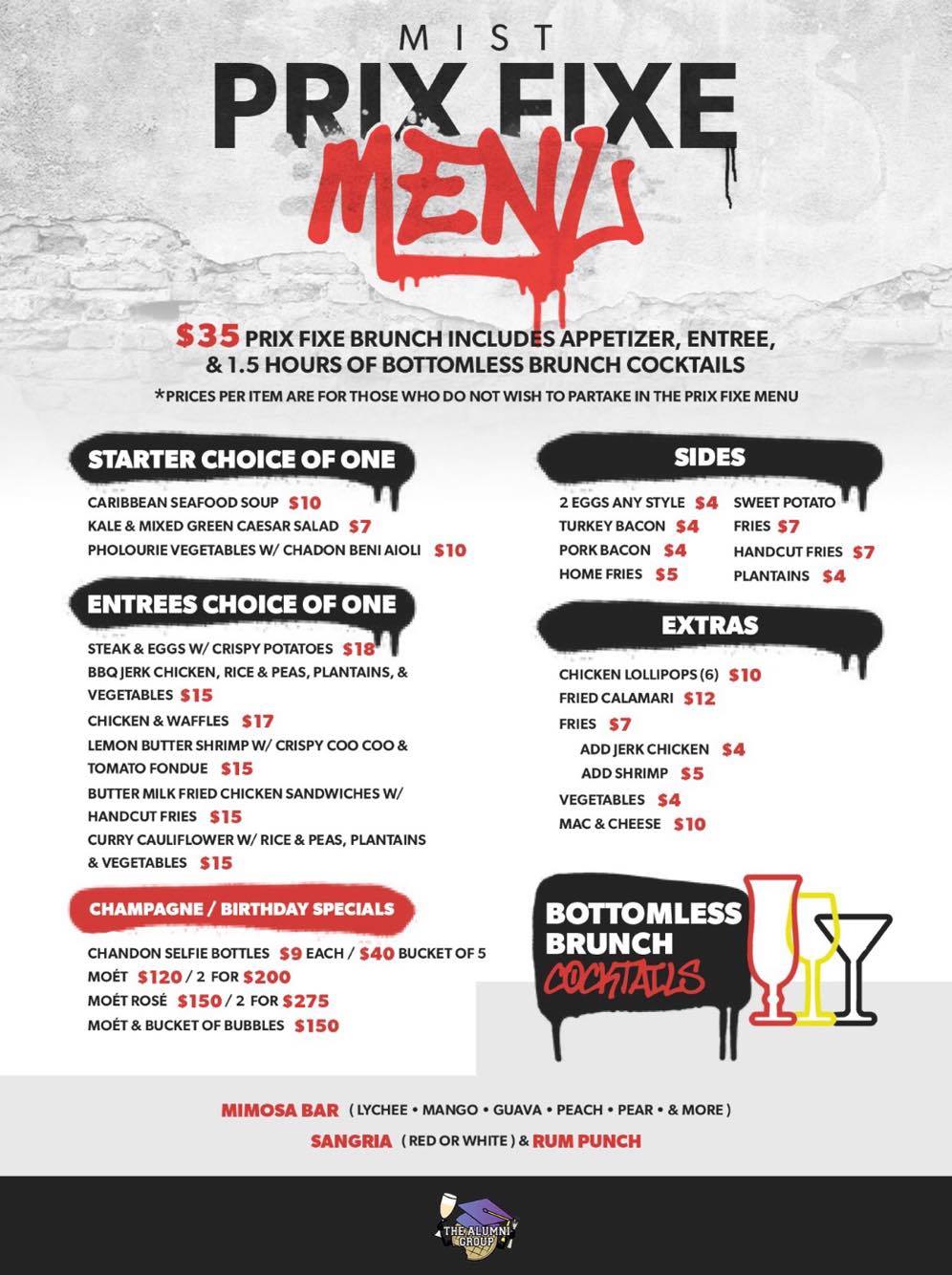 Bottomless 90 minutes unlimited mimosas, bellinis and Sangria
Mist Brunch Menu $35 Prix Includes Appetizer, Entrée and 90 minutes of bottomless brunch cocktails.
*Prices per item are for those who do not wish to partake in the prix fixe menu*
-Starters Choice of One-
Caribbean Seafood Soup $10
Kale & Mixed Green Caesar Salad $7
Pholourie Vegetables with Chadon Beni Aioli $10
Entrees
Steak & Eggs With Crispy Potatoes $18
Barbecue Jerk Chicken Rice and Peas, Plantains, and Vegetables $15
Chicken & Waffles $17
Lemon Butter Shrimp with Crispy Coo Coo and Tomato Fondue $15
Butter Milk Fried Chicken Sandwich with Handcut Fries $15
Mist Burger With Handcut Fries $15
Curry Cauliflower with rice and peas, plantains, and vegetables $15
Sides
2 Eggs Any Style $4
Turkey Bacon $4
Pork Bacon $4
Home Fries $5
Sweet Potato Fries $7
Handcut Fries $7
Plantains $4
Extras
Chicken Lollipops (6) $10
Fried Calamari $12
Cheese Fries $11
Add Jerk Chicken $4, Shrimp $5, Vegatables $4
Mac & Cheese $10
Bottomless Brunch Cocktails (1.5 Hours)
Mimosa
Tropical Bellini
Sangria (White or Red)
Champagne/Birthday Specials
Chandon Selfie Bottles $9 each, $40 bucket of 5