Description
Handstands for Quinn is a benefit for Quinn Brett, who took a 100 foot fall on El Capitan in October and suffered a severe spinal injury that's led to paralysis from the waist down. Every penny raised goes directly to Quinn's recovery fund. Come to this incredible event at the Ridgeline Hotel -- there's even a discount code for $69 rooms if you want to stay the night. (The discount code will be emailed to you after you purchase your ticket)
Quinn is an integral part of the Estes Park and climbing community -- she works as a climbing ranger each summer, rescuing injured hikers and climbers from the backcountry in Rocky Mountain National Park, and she's been inspiring outdoor enthusiasts for more than a decade with her mindboggling ascents around the world.
Her friends here in Estes have organized this one of a kind fundraiser and we're bringing the world's best climbing film festival to town to benefit her. Every single part of this effort is entirely volunteer and donation based -- the film stop from REEL ROCK, the venue, the organization by her friends, and all the amazing experiences, art and outdoor gear donated by so many generous companies and organizations.
This event is rapidly coming together. Your ticket will cover...
TED Talk by Estes Park's own Tommy Caldwell
REEL Rock Film Tour
Free Beers
Silent Auction
Epic Raffle
Photo Booth
Live music from Write Minded and She and I
Free food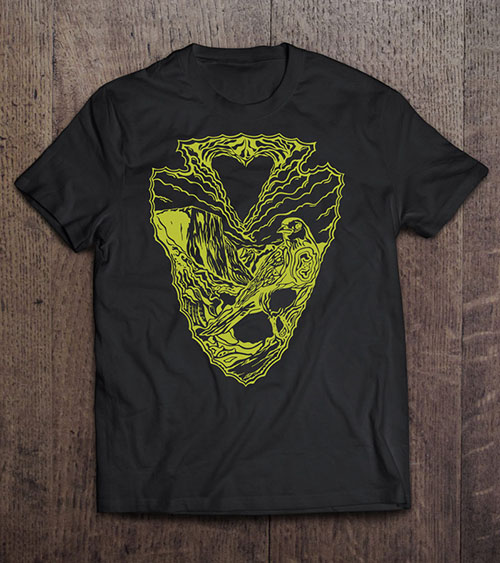 Here is our event tee shirt, done by Wade Johnston. You can buy a ticket for the shirt and redeem it at the event. Here are Wade's words:
Known for her colorful expression and high spirit, the magpie stands determined while looking over her shoulder towards the face of El Capitan. Her chest is emblazoned with a Hopi Symbol of Life . It stands as a reminder of the path we walk in life and all the joys, sadness, struggles, and successes that occur upon said path. The scene is framed within the shape of an arrowhead, which represents the symbol for the National Park System. More importantly, an arrowhead, even after becoming dull, can be reshaped in order to once again be strong and ready for the hunt.