Description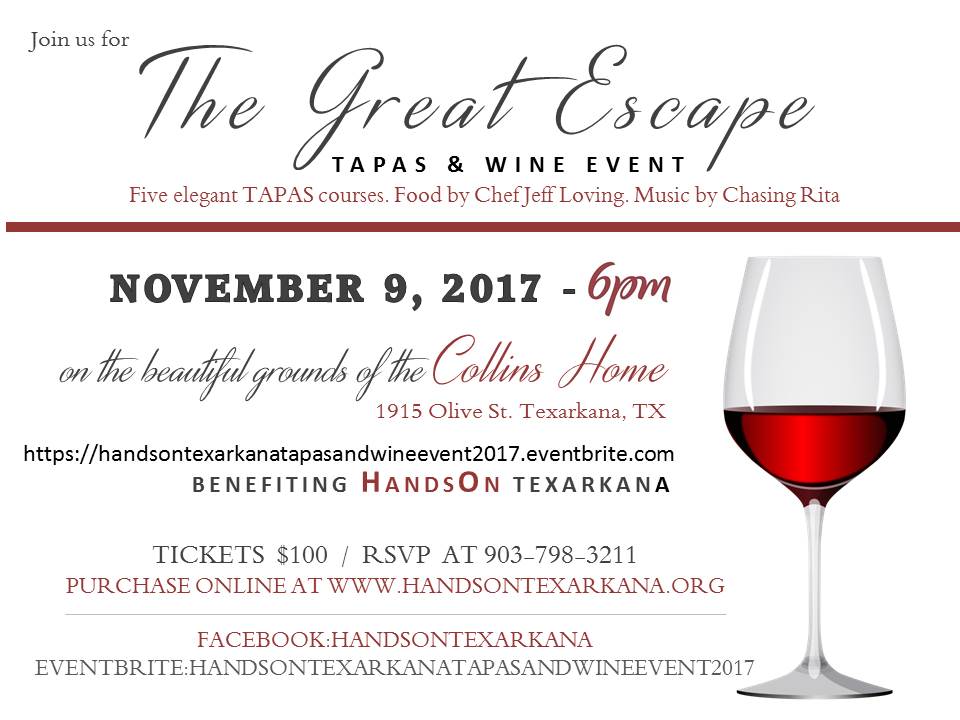 "The Great Escape" TAPAS and Wine Event
November 9, 2017
6:00 P.M. - 8:00 P.M.
The Collins Home
1915 Olive St., Texarkana, TX 75503
RSVP - (903) 792-3211 Food: Chef Jeff Loving
Music: Chasing RIta Wine Pairing: Dr. David Whitten
*This is an outdoor event, open seating with individual ticket purchases.

Proceeds benefit the programs of HatndsOn Texarkana
More information:
Hands On Texarkana's annual Tapas and Wine Event takes place at 6:00 P.M., Nov. 9,2017 on the beautiful grounds of the Collins Home located at 1915 Olive Street., Texarkana, Texas.
Live entertainment will feature the Chasing Rita band, five course tapas portions presented by Chef Jeff Loving of Chef on the Run, wine pairing by Dr. David Whitten Co-Author of "Here's to Your Health" and owner of The Beauty and Wellnes Center in Texarkana, and a silent auction headed by the HandsOn Texarkana Board of Directors TAPAS Committee. Make plans to join "Hands on Texarkana" for a wonderful evening in a friendly, casual environment. Tables and individual seating available. Seating is limited so RSVP soon.
Proceeds from the event will benefit the programs of "Hands On Texarkana", which includes volunteer opportunity connections, parenting classes, senior transportation and a youth volunteer program. "Hands On Texarkana" is about service to the community through volunteerism.
There are great needs in our community and there are many volunteer opportunities for you consider in Texarkana and the surrounding areas. Please call 903-798-3211 for more information on this great event.
The Great Escape TAPAS and Wine Event Five Elegant TAPAS Courses and Wine Pairing Food by Jeff Loving Music by Chasing Rita
Benefitting HandsOn Texakana The Collins Home 1915 Olive St. Texarkana, Texas R.S.V.P. (903) 798-3211 www.handsontexarkana.org