Handshake: Celebration of 40th Anniversary of the Meeting of Zhou Enlai and...
Description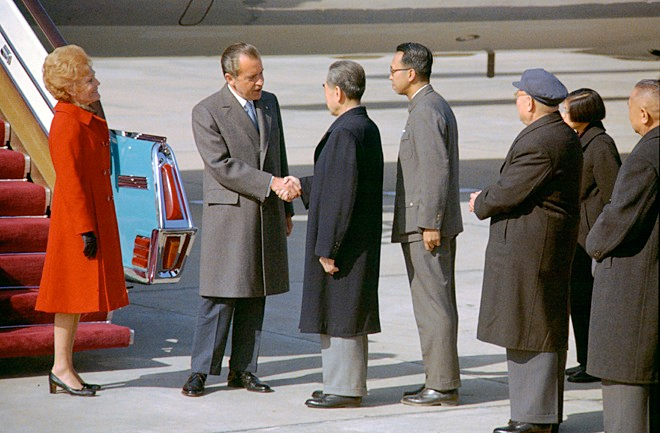 U.S. - China Relations Highlighted
in Historic Re-enactment of
"The Handshake" between Richard Nixon and Zhou Enlai
The "Handshake" Celebration will mark the 40th anniversary of the first official greeting between China's Premier Zhou Enlai and U.S. President Richard Nixon, which began to re-establish ties between their two nations. The event is open to the public, and takes place at 6:00 pm. on Tuesday, February 21, 2012 at the Turtle Bay Resort on the North Shore of O'ahu. It is sponsored by a Hawaii non-profit organization, the Zhou Enlai Peace Institute.
More than 100 woman CEO's from across China are coming to Hawaii for this celebration; they are among China's leaders in the fields of real estate, import/export, electronics, bio-medicine and retail. Key leaders of Hawaii, including the Mayor of Honolulu, North Shore State Representative Gil Riviere and several other State Representatives, and the Chinese Chamber of Commerce will be on hand to welcome these leaders from China. The University of Hawaii, led by Cynthia Ning, director of the world-leading Confucius Institute, is a key supporter.
The centerpiece will be a re-enactment of the handshake, featuring Zhou Hua Zhang, the nephew of Zhou Enlai who worked with him in the Foreign Ministry, and a direct relative of President Nixon (to be announced). The story behind the headlines -- what happened before, during and after the handshake, what made it possible and why it is so historically significant -- will be detailed by Xiao Fang Zhou, the grand-niece of Zhou Enlai.
Michael North, co-founder of the Zhou Enlai Peace Institute, said, "This celebration is part of our continuing work in citizen diplomacy, to bring China and America closer together in mutual respect and trust. It has trade and business implications, since most of these people have never been to America before and will be seeing opportunities for investment in the U.S. for the first time. It also has educational and cultural exchange significance."
There will be a showing of the 40-minute documentary film, "Touching the Tigers", produced in China, about the Flying Tigers -- the U.S. Air Force wing that flew hundreds of combat and rescue missions over China in the 1940's. They are regarded as national heroes in both America and China. Funds raised will begin development of a three-part docudrama, to be produced by award-winning Hawaii filmmaker Edgy Lee, telling intimate human stories of the 400-year-long relationship between the United States and China.
The Zhou Enlai Peace Institute was founded in 2010 by Xiao Fang Zhou (the grand-niece of Zhou Enlai) and her husband, Michael North. It is based in Beijing and Honolulu, and enjoys the support of the Chinese People's Association for Friendship with Foreign Countries, the citizen-diplomacy section of the Ministry of Foreign Affairs.
Links:
Ticketing information; $75 per person, $135 per couple
Main website: http://zhouenlaipeaceinstitute.org
Press coverage of the November 11 launch of the Zhou Enlai Peace Institute during APEC
Video of the dedication ceremony, attended by senior officials of China's Central Government
Email contact: Michael North; 808-638-7100