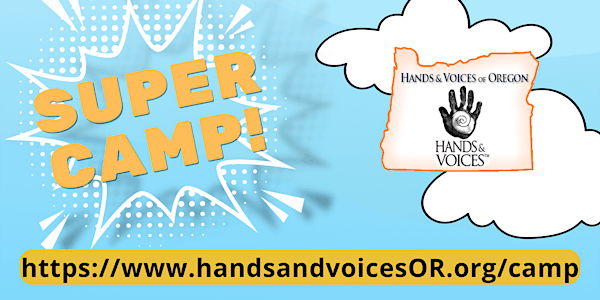 Hands & Voices of Oregon Family Camp 2022: Super Camp!
The Hands & Voices of Oregon Annual Family Camp 2022 is for families to learn, grow, and create community!
When and where
Location
Camp Harlow 3850 Country Farm Rd Eugene, OR 97408
About this event
Family Camp is a place to come and learn more about relating to, advocating for, and supporting D/HH children. We want to thrive together! When you come to Family Camp, you will meet new friends and learn new things! Doors open at 8am on Saturday morning and camp will end at 7pm that evening. Please make arrangements to stay the entire day to get the most out of camp! We can't wait to see you! 
Events to look forward to:
-Adults will have access to a full day of learning from professional presentations related to raising children who are D/HH. Break-out sessions this year will pertain to: Communication Modes, Audiology, Social Emotional Health for DHH children, and everyone's favorite: a Panel or Deaf and Hard of Hearing Adults.
- Kids Camp, for ages 0-16 years, will be available during parent break-out sessions.  It's an all-access opportunity for kids to enjoy fun activities and make new friends!
-Community building with other Oregon families and "Up Time" with your family including, but not limited to, zip line, game room, playground, and more!
-Lunch, snacks, dinner, and s'mores will be provided.
One more thing: Hands & Voices does not discriminate against ANYONE. And it's really importand to us that EVERYONE feels comfortable- so if you speak, sign, cue, do something in-between... you are WELCOME! Please let us know what kind of interpreter you will need and we will make sure everyone has full access.
We are going to have a great time!