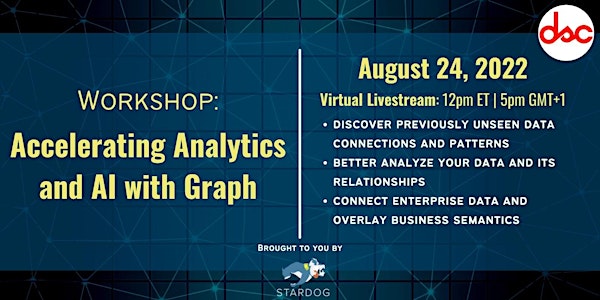 Hands-on Workshop: Accelerating Analytics and AI with Graph
This workshop will discuss how graph x AI can be applied across sectors to uncover meaningful connections and patterns in your data
About this event
Join this online workshop to see how knowledge graphs power a "missing middle" semantic data layer to accelerate returns from your data. By connecting enterprise data and overlaying business semantics, knowledge graphs facilitate more agile data operations, reduce the cost of data integration, and help generate powerful insights into complex business challenges.
Learn how knowledge graphs provide the ideal platform to access any and all data, discover previously unseen data connections, and enable a more complete analysis of data and its relationships, in turn creating valuable business insights faster.
Who should attend?
- data engineers, data scientists, data executives and leadership, data analysts, data architects, and other data folks and practitioners looking to connect any type of data, uncover impactful insights and speed time to market.