Hands on Photography Workshop for Web and Social Media Including Phone Apps and Video Insights

Wednesday, August 14, 2013 from 9:00 AM to 3:00 PM (EDT)
Event Details
This hands on workshop includes lunch.
Bring These Items with You:
Please bring your laptop, smart phone, camera and/or video camera to this hands on workshop. Workshop will start promptly at 9 a.m. and end promptly at 3 p.m.  The seating and the room at the Wake Forest Chamber are both very nice.  Optional Open Networking from 8:30 a.m. until the workshop begins.

Photography and Video Topics Include ( but not limited to ):
...Tips for taking better images: Light, Perspective, Strategy
...Tips for how to use video and advice on affordable equipment
   Audio and light are critical to good video. 

...How to use smart phone apps to promote your brand on the go
...Strategy steps to posting images and video online properly
...Google Maps Tip of posting images of other businesses that point to you and your brand

...Facebook, Google+, Tumblr, Wordpress.com, Blogger, Pinterest, Twitter, Instagram, Yelp, Foursquare, LinkedIn, Flickr and More! Time will not be evenly spread across all of these, but each one will get some attention.
...Phone Apps: Some from Above plus Camera Awesome (other camera apps), Diptic, FocusTwist and More
...Equipment: Affordable Options, Q/A, etc. The best camera is the one with you which in most cases will likely be your smart phone.

...How to utilize a FREE online Editor: Pixlr.com
...Special 30 minute session on using Picassa 3.9 with Google Plus        
enhancements and auto-watermarking feature *by Martin Brossman

...And MUCH MORE!
Pre-Work before the Class:
...Try to have as many accounts set up as you can from the line above that starts with Facebook and ends with Flickr and More!

...Unless your phone camera has lots of features, you should find a good phoneapp. For iPhone, Camera Awesome is great. For Android, Camera ZOOM FX may be a good option.
...Email david@dwppc.com with what you'd like to learn from the class along with what phone and/or camera you use or plan to use.

Bonus:
...Optional Professional Headshot of You by David ($95 Value)
during breaks, at lunch or after class on the day of the workshop (email david@dwppc.com)

Visit David's Website (BUT register first) ... http://www.DWPPC.com

*Special 30 Minute Guest Martin Brossman: Martin is a leading authority on social media and online marketing. He is a dynamic trainer known for his insight and humor. A member of the National Speakers Bureau, Martin is a popular speaker on social media topics.  He teaches at North Carolina Community College Small Business Centers throughout the state.

"Social Media Marketing Powered by Martin Brossman"

Have questions about Hands on Photography Workshop for Web and Social Media Including Phone Apps and Video Insights?
Contact Brenda Williams
When & Where

Wake Forest Chamber of Commerce
350 S White St
Wake Forest, NC 27587


Wednesday, August 14, 2013 from 9:00 AM to 3:00 PM (EDT)
Add to my calendar
Organizer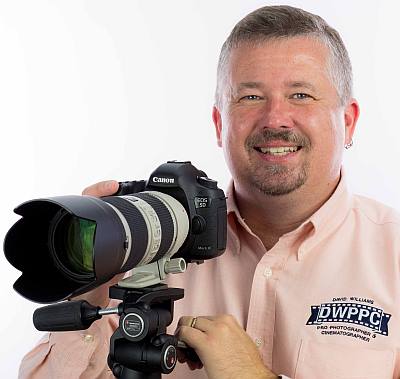 David Williams is a professional corporate / event / commercial photographer and cinematographer. David also does consulting and workshops.  He started in photography in 1981 shooting with film. He is well versed in photography as it relates to Social Media and Internet Marketing.  Visit David's site at http://DWPPC.com