Description
Join Jabo's Ace Hardware and Weber Grills for a one of a kind culinary experience featuring Chef Ken Patrick. In this hands on expereince learn from our celebrity chef as he teaches you how to create a 3 course meal all on a Weber Grill! BYOB Wine Pairing suggestions will be sent after RSVP has been confirmed. In this expereince each student will be creating the following: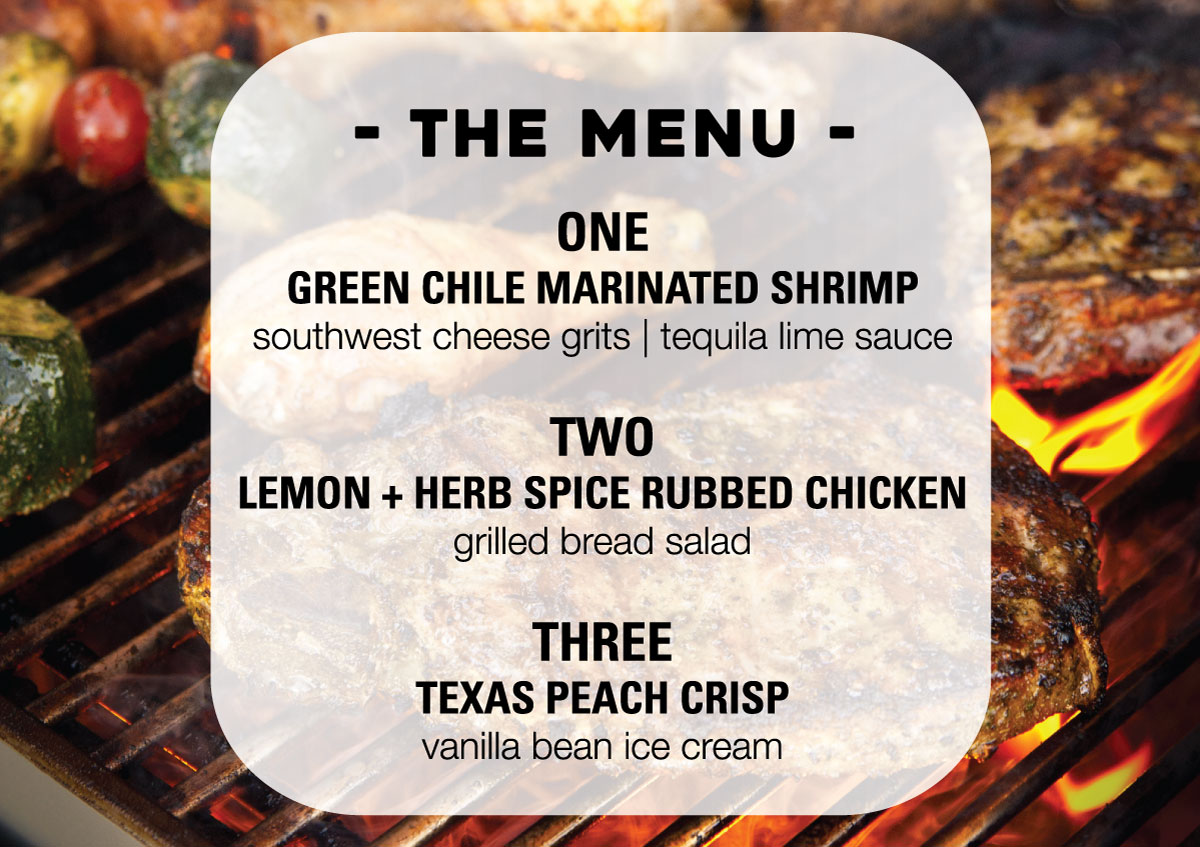 WHAT TO EXPECT:
Each student will prep, cook and serve their own meals cooked entirely on a Weber Gas Grill! Each student will have an opportunity to use some of the best culinary lines available including Finex Cast Iron Pans and Pots, Chroma Knives, Epicurean Cutting Boards, Le Cruset Kitchen Accessories, One Hundred & Eighty Degrees Melamine Plates, Kichen Gadgets by Harold Imports and of course premium Weber Gas Grills.
Class will run about 2 1/2 - 3 hours

Students will work in groups on 4

You will be standing, cooking and working for most of the class

Please wear comfortable, closed-toe shoes and have long hair tied back

Each person will enjoy a generous serving of each dish

Each Student will leave with every recipes designed by Chef Ken Patrick
Who is Chef Ken Patrick?
Ken Patrick has accomplished more than he's ever imagined. As a young boy growing up in Beaumont, Texas, he always knew he wanted to be a chef. The love of food was instilled in him by his mother who enjoyed cooking good food. It didn't take Ken long to get caught up in his passion and to share his art with the rest of the world.
Ken has become a very positive influence to his community and hometown. He's appeared on many television productions and he speaks at public schools to students about making positive life choices and has received national recognition from the White House.
With his extensive background in medical & nutritional therapy, Ken is the sought after chef from many government and national organizations for various public cooking demonstrations and speaking engagements. Chef Ken has been featured on The Travel Channel, where he won the International "Fiery Foods Challenge" & is a celebrity chef of Steve Harvey's Mentoring Program in Dallas, Texas. He's a celebrity chef of The Tom Joyner Cruise, where he won "Battle of the Chefs" while competing against seven other celebrity chefs in the Bahamas, St.Thomas Virgin Islands & Turks & Caicos. He's also an Executive Chef for Ehow.com, & Season 5 Winner of Guy's Grocery Games on Food Network, Double Award Winner of Okrapalooza Dallas, 1st Place Grand Champion of Bacon Bash Texas & Brand Ambassador for Weber Grills. Chef Ken is a celebrity chef of VEVO, a multinational video hosting service & competed on Food Network's Cutthroat Kitchen.
Ken's amazing journey allows him to perform live cooking demonstrations before hundreds of fans, to speak on topics such as entrepreneurship, mentoring, & best of all, to share his story with the hope of inspiring others to achieve their dreams.
Chef Ken is the proprietor of Ken Patrick Spice Rubs which can be found at Jabo's Ace Hardware.