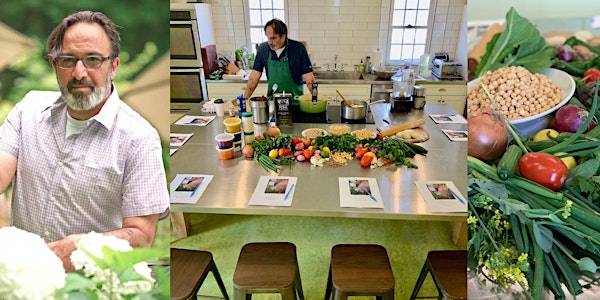 Hands-on Falafel with Serge Madikians of Serevan Restaurant
Master falafel with Chef Serge Madikians of Serevan Restaurant
When and where
Location
HGS Home Chef 2635 Route 23 Hillsdale, NY 12529
Refund Policy
Contact the organizer to request a refund.
About this event
Falafel is that much-loved Middle Eastern street food that creates true craving after a first tasting. Well, that's true of GOOD falafel, anyway, and that's exactly what we'll be making together in this class. Serge Madikians is well known for his delicious falafel, which is among the most popular appetizers at his restaurant Serevan in Amenia NY. If you ever wondered how to make falafel at home this is your chance. Serge will share how to make each element from scratch in our Hudson Valley/Berkshires kitchen, and you will help.
Attendees will participate in the making of chickpea falafel balls, hummus, labneh -- yogurt sauce, and tahini sauce. These elements will be assembled into freshly baked pita bread, which will be rolled out by the students and baked into puffy pockets right before your eyes. The ubiquitous yogurt and mint drink enjoyed throughout the eastern Mediterranean will be part of this informative and oh-so-yummy class.
This hands-on class (plus lunch) is limited to 10 people.
About Serge Madikians:
Chef Serge Madikians was born in Tehran, Iran, to Armenian parents. He came to the U.S. in 1978 with his brother to avoid the Iranian Revolution. He completed his undergraduate degree majoring in history and philosophy and later moved to New York and earned a master's degree in public policy and economics at The New School.
Madikians graduated from the French Culinary Institute in 1998.Upon graduating, he worked in the kitchen with a number of culinary masters – Jean-George Vongerichten and David Bouley to name a few. He now owns and runs Serevan Restaurant in Amenia, NY, where he expresses his passion for Middle Eastern flavors filtered through the lens of fresh Hudson Valley ingredients. Serge was a contributing chef to The Immigrant Cookbook: Recipes That Make America Great.
Cancellation policy: We do not offer refunds on purchased tickets. Persons who notify us at least seven (7) days in advance that they cannot attend may receive credit and register for another class of equal value held within the subsequent two months if a class is available.
Cooking class attendees receive 10% discount on kitchenware purchases on class day.
HGS Home Chef is a member of TheWorkshopExperience.org, a group of friends who produce exceptional experiential learning through classes and workshops on a wide variety of topics in and around Hillsdale, NY - at the crossroads of the Hudson Valley and Berkshires.