Hands-On Beekeeping: from Hive to Table
Actions and Detail Panel
Hands-On Beekeeping: from Hive to Table
Thu, Apr 20, 2017, 6:00 PM – Sat, Apr 29, 2017, 8:30 PM CDT
Description
Work with live bees from United Theological Seminary's own bee operation, giving you the confidence to start a successful beehive in your backyard. The course consists of both classroom and hands-on learning, offering practical skills for at-home beekeeping, including: hiving a package, hive management, pest/disease control, biology, wintering a hive, honey extraction, etc. No beekeeping experience necessary!
Protective wear is provided. After completion of the course, students will receive a Qualified Beekeepers Certificate that is accepted by the cities of Minneapolis and St. Paul as well as the surrounding Twin Cities metro area.
Only 20 spots are available, so register now to save your spot.
About the Instructor
Brandon Krosch is a third-generation beekeeper and a director of the Minnesota Hobby Beekeepers Association. IN addition to his home-based beekeeping enterprise, he tends several hives at United from which he extract's the seminary's supply of Holy Honey each fall.
Dates
Thursday, April 20 from 6:00-8:30 PM
Thursday, April 27 from 6:00-8:30 PM
Saturday, April 29 from 1:00-4:00 PM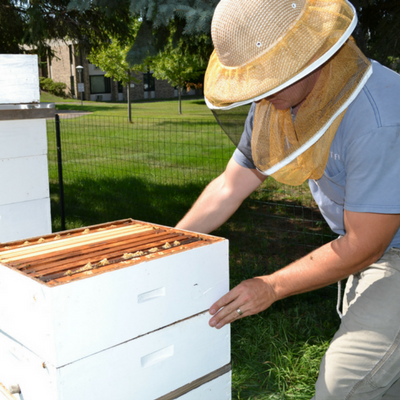 Date and Time
Location
United Theological Seminary of the Twin Cities
3000 5th Street Northwest
New Brighton, MN 55112