Description
Class Times:
(class dates were edited by accident)
This is a 4 session class held on 4 Monday nights from 7 - 9pm.
Session 1: Monday, 3/5/2018 7:00 PM - 9:00 PM
Session 2: Monday, 3/12/2018 7:00 PM - 9:00 PM
Session 3: Monday, 3/19/2018 7:00 PM - 9:00 PM
Session 4: Monday, 3/26/2018 7:00 PM - 9:00 PM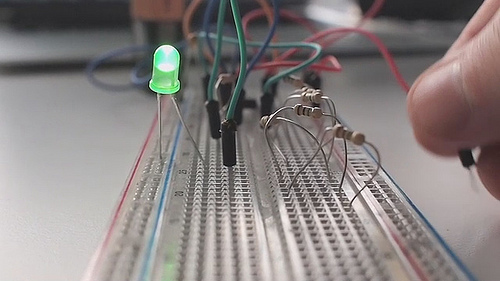 Description:
Have you been interested in learning to work with electronics, but haven't known where to start? This class is for you! It will be a hands-on, practical, crash course that will provide you with the skills to do simple electronic projects. You will walk away knowing the basics of circuit theory, how to prototype circuits on a breadboard, how to troubleshoot them, and how to solder them together.

The class consists of four two hour classes. In each class we will complete at least one project and you'll go home with some fun things that you have created. Students will be able to join in on A2's Circuit Hacking Night on Wednesday Nights if they would like more time to work on their projects.
Class Goals:
Gain an appreciation for electronics.
Learn fundamental concepts pertaining to electricity and electrical components.
Leave with basic skills that will enable you to take on independent projects.

Go home with your own blinky light circuit,Drawdio noisemaker, Joule Thief battery vampire.
Reading basic schematics and proper use of multimeter and oscilloscope, and various electron wrangling.
Prerequisites:
Students must be at least 18 years of age.
Materials:
Materials and parts will be provided.
Instructor Biographies:
Andrew Anselmo is a consulting engineer and a member of Artisan's Asylum, one of the biggest maker spaces in the US, and has worked on many different controls, instrumentation, and automation projects for industry as well as in the arts. He has worked with the Arduino environment on many projects, and has built a few interesting devices around various "flavors" of the Arduino platform to solve real world problems. Some of his work and consulting philosophy can be seen at www.clipboardengineering.com.
Mike Beach is an Electrical Engineer with many years of experience with the design and debug of electro-optical and high speed analog systems. Some of this work can be seen at www.actinica.com. He has held classes in low-noise analog design for IEEE, has co-taught a robotic design course based on a hybrid Raspberry Pi/Arduino platform at the Asylum and is an active participant and mentor at the Circuit Hacking night held at the Asylum every Wednesday.
Class Minimum:
This class will be cancelled if less than 6 people have signed up by Friday before class starts so sign up early and bring a friend!