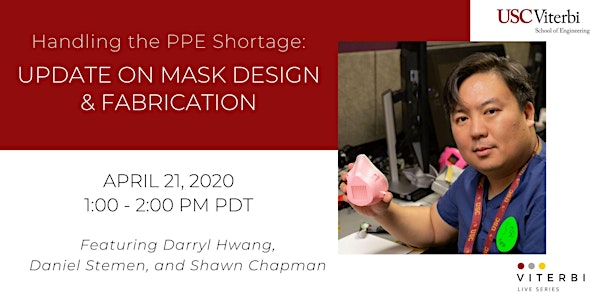 Handling the PPE Shortage: Update on Mask Design & Fabrication
Handling the PPE Shortage: Update on Mask Design & Fabrication
By USC Viterbi School of Engineering
Date and time
Tuesday, April 21, 2020 · 1 - 2pm PDT
About this event
Since our virtual workshop on April 3rd, the USC team has made significant progress in developing reusable filtered masks with the help of the local manufacturing community. This forum will share details of the current design and plans for fabricating these masks. This will enable the LA community to help produce usable masks based on a safe design concept. Register for this community update if you want to help mitigate the PPE shortage. Space will be limited to promote conversation and idea sharing.
Speakers: Darryl Hwang, Daniel Stemen, and Shawn Chapman
Moderator: SK Gupta
This session will be hosted on Zoom. Links and passwords will be sent to all registered participants the morning of April 21.
For any questions, please email us at engalums@usc.edu.
To view recordings from the April 3rd workshop, please click here: https://viterbischool.usc.edu/online-events-series/
About the organizer
Located in the heart of the Pacific Rim, USC Viterbi fosters world class research and practical innovation.
The USC Viterbi School of Engineering is innovative, elite and internationally recognized for creating new models of education, research and commercialization that are firmly rooted in real world needs. The school's first priorities are the education of outstanding students and the pursuit and publication of new research.
As the school's faculty and students extend the frontiers of engineering knowledge through their research, they also apply engineering and technology to address societal challenges. The school stimulates and encourages qualities of scholarship, leadership, ambition and character that mark the true academic and professional engineer — to serve California, the nation and the world. At USC Viterbi, we call this the enabling power of Engineering+.