Handling Elevator Emergencies - Technician Level - November 6, 2019
Description
HANDLING ELEVATOR EMERGENCIES - TECHNICIAN LEVEL - NOVEMBER 6, 2019
LEAD INSTRUCTOR: MIKE DRAGONETTI
COURSE LENGTH: ONE DAY
COURSE PRE-REQUISITE: HANDLING ELEVATOR EMERGENCIES - OPERATIONS LEVEL
This one-day course will cover the following:
Catastrophic elevator emergencies

Specialty equipment
Securing a compromised elevator

Space case emergencies
Blind shaft removals

Use of the car top run box

Escalator emergencies
General Information:
This course is designed for the trained professionals that respond to emergencies involving stalled elevators. Emergency personnel with inadequate training in handling elevator emergencies are exposed to an increased risk of injury of death to both the victim and themselves. This comprehensive course will provide emergency responders with intensive classroom and hands-on traning to safely and effective remove passengers from stalled elevators. Advanced elevator rescue procedures will be covered in this program.
This course also features a dynamic 2 hour PowerPoint classroom presentation accompanied by realistic hands-on skill stations involving the topics listed above. The course will also feature the state-of-the-art props, built from actual elevator and escalator parts.
About the Instructor:
Michael A. Dragonetti is 24 year member of the Stamford (CT) Fire Department. He was assigned to to Rescue Company 1 for 17 years and is presently assigned as a Deputy Chief's Aide in Group 2. Mike is a New York and Connecticut State certified fire service instructor. He has taught elevator rescue at the FDNY Technical Rescue School, FDIC, and to Fire Departments across the United States. In addition, Mike has been a presenter at the Fire Department Instructor's Conference (FDIC) since 2003 and a contributing author for Fire Engineering magazine. Prior to joining the fire service, Mike worked for one of the largest elevator companies in the world and gained extensive experience in the New York City Metropolitan area constructing, modernizing, maintaining, and repairing elevators and escalators.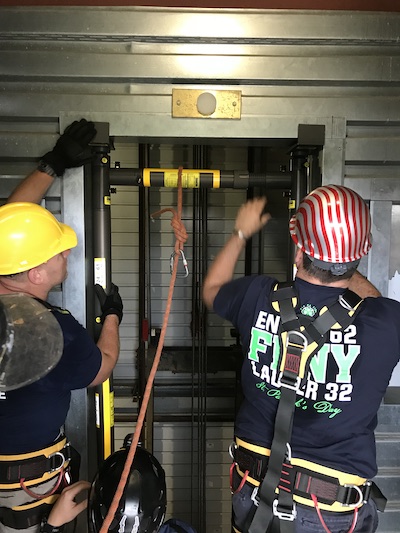 All questions regarding this course or the schedule, should be directed to Lieutenant Patrick-Colin Burns at PBurns@StamfordCT.gov.