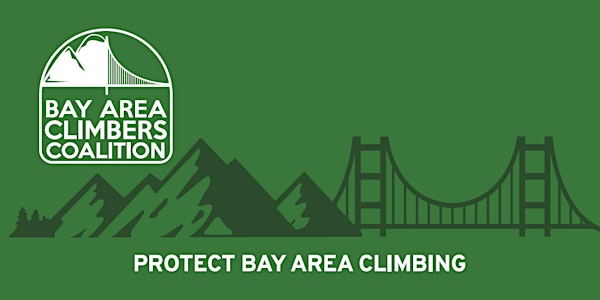 Handley Rock Park Clean Up Party
When and where
Location
Handley Rock Park Handley Trail Emerald Hills, CA 94062
Description
Join the Bay Area Climbers Coalition, the Handley Rock Association and the Access Fund Jeep Conservation Team for the annual Spring clean up party! If you haven't visited before, Handley Rock Park is a gem of a park located mid-peninsula, with a long history of climbing and absolutely stunning views of the Bay.
Volunteer Roles
Attendees will be taking on the following projects:
Fire hazard reduction (brush clearing, pruning, etc.)
Glass and trash clean-up
Graffiti removal
Where is Handley Rock Park?
Handley Rock Park is located mid-peninsula, in the Emerald Hills neighbourhood of Redwood City. Unfortunately transit options are very limited (the nearest bus stop is 1.3 miles from the park), as is parking space at the park itself, so we strongly encourage you to carpool for the event. If we have excess vehicles on the day we may have to ask some volunteers to park their cars some distance from the park then walk in.
Logistics
Safety - We are HUGE on safety! There will be a safety talk at 9am on the day of the event. Please note that we require all participants to be present for the safety talk and wear closed toe shoes. Unfortunately, we cannot allow anyone to participate who does not attend the safety talk and wear closed toe shoes.
Food - Pizza lunch will be provided for all volunteers, and will include gluten-free options. Please let us know if you have other dietary restrictions.

Water - Please bring a full water bottle. While there will be access to water from local residents' houses, we'd like to minimise our reliance on their generosity.
Tools - Tools and gloves will be provided, but we encourage you to bring your own work gloves.
Bathrooms - There are no bathrooms at or near the park. Please go before you go!
Clothing - Sturdy, closed toe shoes are mandatory. A hat and sunscreen are also recommended.
We are an inclusive community of climbers and welcome all people including LGBTQ+ and climbers of colour.