I don't want a wig that looks like a wig, I want a wig that can pass as a weave.
About this event
Become A Expert In Wigs!!! Hands-on Wig Training Beginner Friendly!!
1-on-1 Hands on Wig Course 101 is a Hands-on Training course you will learn how to make hand-sewing wigs for the start to the end . This course is for hairstylist, Cosmetology Instructors, Cosmetology students, or anyone that would love to learn how to make a Hand-sewing wig, who wouldn't love to improve or learn the fundamentals of wig making. This course would not only give hairstylist, instructors, and etc. the confidence to work with wigs, but will take your business to the next level.
Welcome to Hand-sewing hands on Wig Course 101: Your Instructor, Tashya Brinkley, will teach you the following below:
*How to properly sew a wig on a dome cap
*How to measure head for wigs
*How to sew a lace frontal on a dome cap
*How to sew a closure on a dome cap
*How to properly style a wig once finished
*How to properly take professional photos for wigs
*Learn how to promote to gain wig clients
*Learn what styling aids to use when styling wigs
*Learn How to get rid of fly away's when styling wigs
Wig head & hair and etc. will be provided by the instructor. (will not be able to take wig) you can bring your own dome cap and hair if you like (optional)
Educator Information:
Tashya Brinkley, Licensed Cosmetologist in FL and WI. Managing Salon Experience, Teaching Experience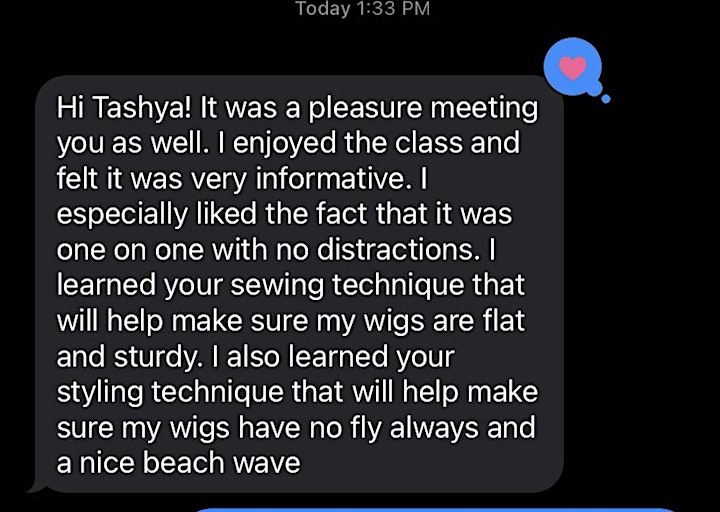 Organizer of Hand-Sewing Wig Making Course 101
I Love teaching and educating people. I am very passionate about the Beauty industry. I love teaching what I know to experience and future professionals. Yes, I am very social media savvy. I have taught people in Texas, Canada, Florida, IIIinois, Milwaukee and etc. My goal is to reach all 50 states and I will.