About this Event
Whether you're a seasoned lettering pro with years of experience, or simply looking for a creative new way to spend your weekend. This lettering course will open your mind to the wonders of lettering and guide you through creative techniques to enhance and improve your creative skillset.
In this six hour workshop you'll learn and practise the very basics of hand drawn lettering, 3D perspective lettering, and letter painting. Using my self developed technique, this hands on course guides you through the intricacies of type and comes to a fun conclusion with each of you drawing, and painting your own unique 3D letter artwork.
Expect a relaxed atmosphere filled with laughs, lettering, and learning. Accompanied by other creative people from all walks of life.
In this workshop you will learn:
• The basics of hand lettering
• How to draw precise letters using a grid
• My self developed 3D lettering technique
• An overview of different 3D lettering styles
• 3D Lettering Theory
• How lighting and shadow interact
• 3D letter painting techniques
FAQ:
Is this course suitable for complete beginners?
Yes! The syllabus was designed to accommodate those with absolutely no knowledge of lettering, building from easy practises to more complex techniques.
Am I too young/ old for the course?
Definitely not. Previous attendees of my workshop have ranged in age from 9 - 63 years old. I've taught art students in Tokyo, creative directors in Milan , and even a plumber here in the UK. All are welcome to join in the fun of lettering.
Will I get one-to-one time if I need extra help?
Of course. I keep the class size capped at 15 so that every one of you gets more than enough one-to-one assistance if necessary.
Do I need to bring any materials with me?
All materials will be provided on the day and you're welcome to take them home with you to continue your lettering practise.
Will there be food provided?
There will be an hour break for lunch halfway through the workshop where you can either eat food you've brought with you, or venture out and purchase lunch.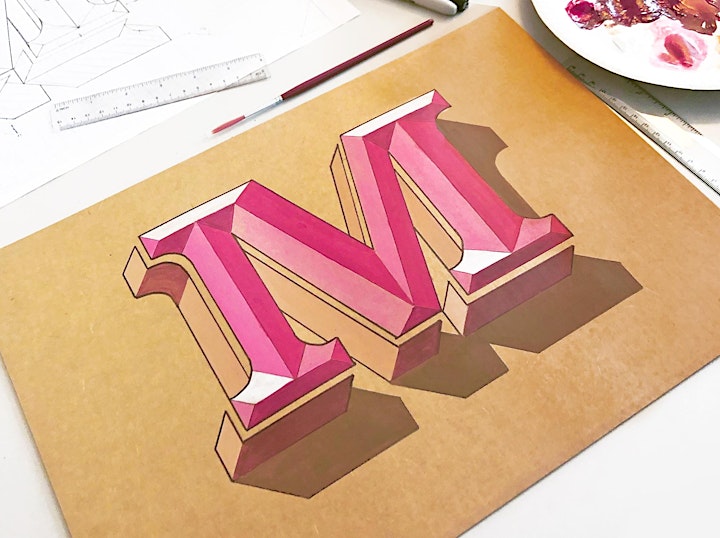 Testimonials:
I really enjoyed the workshop! After posting about it on Instagram I received a message and got a small commission for some line-work 3D letters. I've already made back the cost of the workshop!
Thomas Doherty | Lettering hobbyist | Cardiff, UK
It was super interesting to discover James' technique! It is easy to learn, extremely useful, and helped me develop a different approach. Considering I'm not a beginner when it comes to lettering, it was interesting to absorb these new skills, and mix this technique with several more. James is very good good at teaching, very patient and kind. Offering suggestions and explanations to each individual who attended the workshop.
Francesco Guerrera | Art director | Milan, Italy
When I decided to get serious in lettering, I knew it would be best to invest my money to attend workshops. I'm interested particularly in 3D Lettering, so you can imagine when few months ago I found out @jamesllewis was coming to Indonesia to give a workshop. Without hesitation I registered and not regretting a single second since then. Through his lecture during the workshop you can learn so much more from him, passion, determination, humbleness and most importantly, a wake up call about what it takes to be success. It's a long learning process, but if you do it with your heart, it'll take you where you want someday. I can't thank him enough.
Winda Krisnadefa | Lettering hobbyist | Jakarta, Indonesia