Sales Have Ended
Ticket sales have ended
Online sales have ended. Tickets available at the door! Cash and card accepted.
Sales Have Ended
Ticket sales have ended
Online sales have ended. Tickets available at the door! Cash and card accepted.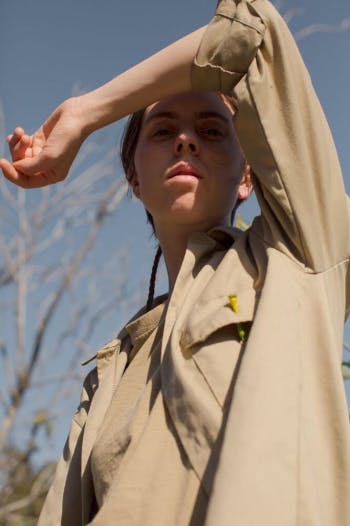 About this Event
Hand Habits
Meg Duffy hasn't stopped moving, working, or growing since she left her quiet childhood home in upstate New York. You can find her in the back of the van reading a book, quietly warming up backstage with some guitar workouts, or waiting tables at a neighborhood pizzeria. Though Meg didn't pick up the instrument until she was seventeen years old, her intuitive, naturalistic musicality and commitment to the craft of guitar playing have made an in demand collaborator and guitarist for countless indie acts (Kevin Morby, Mega Bog, Weyes Blood) and kept her between the road and the studio for almost three straight years. Like much of the richest art, Meg's LP debut Wildy Idle (Humble Before the Void) (Woodsist 2017) ​is many things at once. The record is a collection of songs written amidst the constant motion of touring, recording, and working part-time jobs; recorded at home in North East LA between other commitments, around the sounds of roommates cooking breakfast, and dogs pattering though an old craftsman house. Layered with Duffy's signature extended guitar techniques, poems read by friends, and musical contributions from contemporaries like Keven Lareau (Quilt), Avi Buffalo, Sheridan Riley, and others, the album combines striking visual storytelling and compelling melody with a deceptively light touch. Drawing on diverse influences ranging from novelist Iris Murdoch to Phil Elverum's seminal work under his Microphones moniker, this album is more than the sum of its parts. Like a folded paper fortune teller, each listen reveals a new, hidden truth about living, working, and falling in and out of love buried in the quietly beating heart of the record. Dark, pulsing tracks like the intoxicating "Bad Boy" sit comfortably beside sunny strummers like "All The While" with its bouncing bass line and beguiling lyrics. The thread that runs through all these songs is Duffy's voice, in turns languid and sweet, and always telling a story. Mixed and mastered by contemporary electronic music maestro M. Geddes Gengras, the result is an LP as hypnotic as Hand Habit's impossibly immersive live set, and filled with the same engaging blend of wild improvisation and perfect restraint. Expansive, atmospheric arrangements punctuated with intricate melodic details. This record is indoor music at its finest: listen in the morning, in bed with your partner, in the kitchen while you make coffee, at night when you read on the porch.
Stephen Steinbrink
Stephen Steinbrink was born in 1988 in a non-descript stucco hospital franchise adjacent to a Circle K in the ultra-conservative Phoenix suburb of Mesa, AZ. He grew up and learned to play guitar to deal. The majority of his teens and twenties were spent living an improvised and experimental existence, being nowhere and recording incessantly. His 8 LPs of pop songs have been released in Japan, Europe & North America, and has performed in dozens of countries around the world. 
Wizard Apprentice
Wizard Apprentice is an independent electronic music producer, motion graphics and live performance artist. As a highly-sensitive introvert, her multimedia projects are strategies for energetically managing an overwhelming world. Her music is a combination of lyrical precision, minimalistic composition, and technically amateurish charm. She creates digitally-based media that takes advantage of accessible, user-friendly technology; allowing her to skip time consuming learning curves and get straight to focusing on inventing personalized yet highly relatable language for deeply subtle and internal experiences. She's not a gear-head, rather, a digital folk artist who vividly and simplistically expresses her inner world using resourcefulness and honesty. Her video work incorporates green screen graphics, digital puppetry, and minimalistic compositing to produce imagery that's cerebral, campy, and hypnotic. She combines song and video to create multimedia live performances that explore intimate emotional themes ranging from the challenges/triumphs of being an empath to overstimulation in the Internet Age.