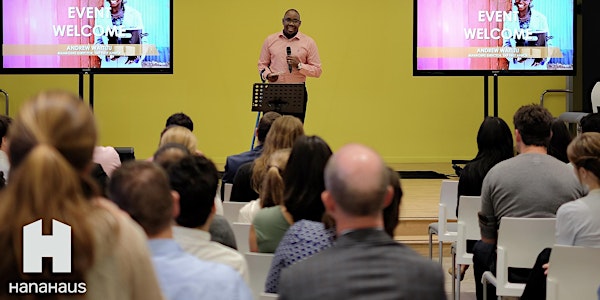 HanaHaus Speaker Series: Exponential Thinking
When and where
Location
HanaHaus 456 University Ave Palo Alto, CA 94301
Description
Summary
Tomorrow Today - An Introduction to Exponentials

Join Singularity University's Pascal Finette on an journey into the (not so distant) future of exponentially accelerating technologies. Hear the untold stories and insights of Silicon Valley's most important technologists, and learn what it takes to shift your own thinking from linear to exponential, and your mindset from scarcity to abundance. A whirlwind tour of the latest and most influential technologies of the next ten years will give you the opportunity to apply your new way of thinking.


Speaker
Pascal heads up everything Entrepreneurship at Singularity University, including the Startup Program, Global Expansion and the Entrepreneurship Track where he inspires, educates and empowers entrepreneurs tackling the world's most intractable problems leveraging exponential technologies.

Pascal has spent his career pushing the boundaries of technology and passionately believes the Internet can deeply impact the betterment of mankind. He got started on the Net before there was a web browser, founded a couple of technology startups, led eBay's Platform Solutions Group in Europe, launched a consulting firm helping entrepreneurs with their strategy & operations, invested into early-stage tech startups, led Mozilla's Innovation Lab, created Mozilla's accelerator program WebFWD, headed up Mozilla's Office of the Chair and has invested into social impact organizations around the globe at Google.org. He also founded the non-profit organizations Mentor for Good and The Coaching Fellowship; the "GyShiDo" (Get Your S%#& Done) movement and publishes the opinionated newsletter, "The Heretic", which is read by ten of thousands of entrepreneurs around the globe.

He frequently speaks and writes about the magic which happens at the intersection of entrepreneurship, technology & global impact. As a trained Co-Active executive coach Pascal works with clients on achieving their full leadership potential. But most of all – Pascal loves to work with entrepreneurs who are making things better and go from zero to one.


Pascal Finette

Singularity University

Vice President SU Labs, Entrepreneurship Chair