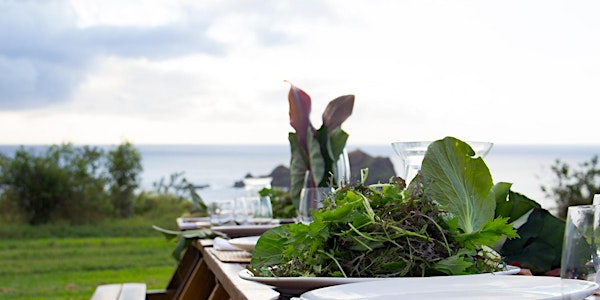 Hāna Poi Supper: A Benefit for the Hāna Youth Center
When and where
Location
Hāna Ranch 5670 Hāna Highway Hāna, HI 96713
Description
Join edible Hawaiian Islands, Hāna Ranch, and Travaasa Hāna as they kick off the 24th Annual Taro Festival with a fundraiser Poi Supper on Friday April 29th at the ranch. All proceeds from the dinner will be donated to the Hāna Youth Center to continue to grow and support the next generation in Hāna.
4pm: Arrive at Hāna Ranch for pūpū and Kōloa Rum cocktails created by Matthew Biancaniello, a visiting cocktail chef from Los Angeles
Matthew Biancaniello creates adventurous cocktail experiences. He formulates cocktails based on farm-fresh and unique, organic ingredients. Never working off a set cocktail menu, Biancaniello visits at least five different local farmers markets a week to source his ingredients, which inspire his imaginative cocktails. For this Poi Supper, Matthew will be foraging ingredients from the ranch to create his legendary cocktails with Kōloa Rum Company.
Pūpū prepared by Chef Jon Watson of Hāna Ranch
Beef satay with peanut sauce, Hāna Ranch skirt steak
White beet citrus skewers with local citrus, pea shoots, fennel
Wonton cup salad with bok choy, macadamia nuts, salanova lettuce
4:15pm: Tour the organic farm with Angie McGinness, the Farm Manager at Hāna Ranch
The farm at Hana Ranch is rooted in the values of land stewardship, collaboration, and community. Their produce is grown organically without the use of harmful synthetic chemicals or genetically modified seeds. They believe that by caring for the land, they can deliver the best produce to their customers and strengthen the foundation of their community.
4:30pm: Experience the art of pounding poi with Viliami Tukuafu of Ma Ka Hāna Ka ʻIke
Ma Ka Hāna Ka ʻIke is an award-winning construction skills training program for at-risk youth in Hāna. Their approach is to teach academic subjects through real-life, hands-on application, where students can understand the concepts they're learning through tangible examples. For this Poi Supper, Viliami will be joined by two Hāna students as they pound poi with traditional boards and stones with locally grown kalo.
5pm: Sit down for a locally grown dinner with an ocean view

First Course
Hāna Ranch taro salad with tomato, Maui onion, pohole fern, mixed greens, and a ginger soy dressing Prepared by Chef Jay Johnson, Travaasa

Second Course
Fresh catch fish laulau with coconut milk, ginger, cilantro, microgreens, kalo leaf
Prepared by Chef Jon Watson, Hāna Ranch
Third Course
Hāna Ranch beef tenderloin with sweet potato, cherry tomato, herbs
Prepared by Chef Jon Watson, Hāna Ranch
Dessert
Ginger lemongrass taro cobbler with coconut whipped cream
Prepared by Chef Jay Johnson, Travaasa
*Menu may change due to produce availability and weather
The sun begins to set around 6:30pm in Hāna and it will begin to get dark as we finish the evening. Please bring a flashlight or use the flashlight on your phone. By noon on Friday, if we anticipate rain, we may move the dinner and you will receive a phone call and email with new location details. Hāna Ranch is a working cattle ranch and farm. Please wear comfortable walking shoes and prepare for changes in weather with sunscreen, a light jacket or layers.