Description
HERE WE GO AGAIN...BASEBALL IS COMING SOON!! DON'T MISS OUT!
HAN-SF is heading to the ballpark for the 7th year in a row!! Join us as the San Francisco Giants take on the dreaded Dodgers on Tuesday April 30th at the newly named Oracle Park.
As always, we'll have a pre-game get-together to have some drinks and snacks before heading to the game.
You MUST attend this pre-game event to pick up your ticket(s) and arrive no later than 6:15pm. Please note that your Eventbrite receipt is NOT a ticket to the game. Our event has been moved up to accommodate a 30-minute earlier game time.
Tuesday, April 30th
No Host Happy Hour 5:15-6:15pm - Pedro's Cantina, 128 King St, across from the ballpark
Game starts at 6:45pm
SEATS ARE RIGHT BEHIND HOME PLATE in View Reserve. Yes, that's our view in the above pic.
April 30 is also Cal Night at Oracle Park and there will be many alumni sitting all over the park, including a couple of sections over from us (our view is better!)
Your ticket price includes a special giveaway of a Cal Night at Oracle Park blanket.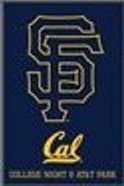 Note: Last time we attended a Dodger game, tickets were sold out within 3 hours of announcement. Purchase now to ensure you get to join our event.
If for some reason, you can't attend the game, feel free to join our Happy Hour at Pedro's.
If you have any questions, please contact Mauri Schwartz at mauri@careerinsiders.com - 415-505-6130.
Please ignore the CONTACT THE ORGANIZER link below as it will direct you to the wrong person. Please use the contact info above to contact Mauri. Thanks!