Description
Monthly Meeting Announcement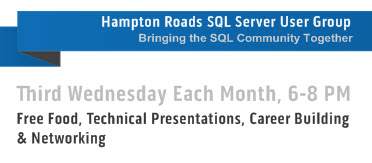 About Us
Hampton Roads SQL Server User Group is a group which embraces the PASS mission statement, "to empower data professionals who leverage Microsoft technologies to connect, share, and learn through networking, knowledge sharing, and peer-based learning." The HRSSUG is focused on Microsoft SQL Server software and the tools related to its use for all users starting with novices all the way up to experts. Join us for HRSSUG's regularly scheduled meetings every third Wednesday of every month.
We focus on connecting SQL Server professionals working in all of the major areas of data.
Our Topics
Database Administration
Business Intelligence
Design
Development
Machine Learning
Performance Tuning
Career Building & Soft Skills
Typical Meeting Format
6:00pm - 6:30pm | Free food / beverages, networking and group discussion.
6:30pm - 6:45pm | PASS news / announcement, a word from our sponsors, local event reminders.
6:45pm - 8:00pm | Speaker presentation followed by open discussion and networking.
This Month's Speaker : Devin Jaiswal, Microsoft
Bio:
Devin is a part of a highly skilled architecture team dedicated to delivering a high return on investment for our client's IT spend in the data platform space. Devin's rich history in business analytics, management information reporting, IT compliance, and production environment management provides a unique cross section of experience that allows him to assess performance along the entire data delivery chain (source extract, ETL, data modeling, BI reporting, and ad hoc analytics). This ability to address all aspects of the client's environment provides the increase in business value clients realize from their business intellectual property.
Title:
Introducing Azure SQL Database Managed Instance
Abstract:
SQL Database Managed Instance is an expansion of the existing SQL Database service designed to enable database migration to a fully-managed database service, without re-designing the application.
It's important to note that Managed Instance isn't a new service – it is a third deployment option within Azure SQL Database, sitting alongside single databases and elastic pools. As part of Azure SQL Database, Microsoft's fully managed cloud database service, it inherits all its built-in features.


Discount Code to PASS Summit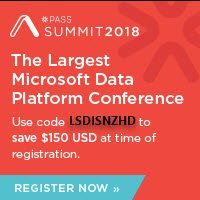 Thanks to our Sponsors!