Description
Monthly Meeting Announcement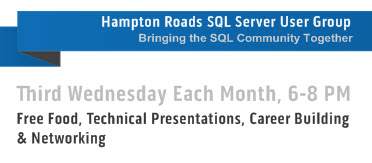 About Us
Hampton Roads SQL Server User Group is a group which embraces the PASS mission statement, "to empower data professionals who leverage Microsoft technologies to connect, share, and learn through networking, knowledge sharing, and peer-based learning." The HRSSUG is focused on Microsoft SQL Server software and the tools related to its use for all users starting with novices all the way up to experts. Join us for HRSSUG's regularly scheduled meetings every third Wednesday of every month.
We focus on connecting SQL Server professionals working in all of the major areas of data.
Our Topics
Database Administration
Business Intelligence
Design
Development
Machine Learning
Performance Tuning
Career Building & Soft Skills
Typical Meeting Format
6:00pm - 6:30pm | Free food / beverages, networking and group discussion.
6:30pm - 6:45pm | PASS news / announcement, a word from our sponsors, local event reminders.
6:45pm - 8:00pm | Speaker presentation followed by open discussion and networking.
This Month's Speaker : Carlos Chacon
Bio:
Carlos Chacon is the managing partner of SQL Data Partners LLC and co-host of the popular SQL Data Partners Podcast. He also organizes the premier Virgina event SQL Trail each October. He enjoys traveling and has been to four continents, speaks Spanish and can eat his weight in raspberries (not yet proven). He and his family live in Richmond, Virginia.
Title:
The Easy Button for Managing Your Lower Environments
Abstract:
Are you tired of getting requests for lower level restores? Do you have any space issues? This session will review the concept of containers and attempt to identify ways we might benefit from this new technology as we support our users.
Discount Code to PASS Summit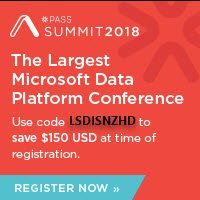 Thanks to our Sponsors!