Description
Monthly Meeting Announcement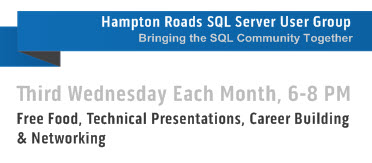 About Us
Hampton Roads SQL Server User Group is a group which embraces the PASS mission statement, "to empower data professionals who leverage Microsoft technologies to connect, share, and learn through networking, knowledge sharing, and peer-based learning." The HRSSUG is focused on Microsoft SQL Server software and the tools related to its use for all users starting with novices all the way up to experts. Join us for HRSSUG's regularly scheduled meetings every third Wednesday of every month.
We focus on connecting SQL Server professionals working in all of the major areas of data.
Our Topics
Database Administration
Business Intelligence
Design
Development
Machine Learning
Performance Tuning
Career Building & Soft Skills
Typical Meeting Format
6:00pm - 6:30pm | Free food / beverages, networking and group discussion.
6:30pm - 6:45pm | PASS news / announcement, a word from our sponsors, local event reminders.
6:45pm - 8:00pm | Speaker presentation followed by open discussion and networking.
This Month's Speaker : Jamie Wick
Bio:
Jamie Wick is the Systems & Database Engineer for The College of William & Mary and has been working with databases for the past 10+ years. His background includes working for several years as a SQL SysAdmin for the University of Queensland (Australia), a Master's degree in Computer Information Systems from Boston University, and assorted Microsoft SQL certifications. He is a volunteer & speaker at regional SQL events (User Groups/SQLSaturdays), helps run the Richmond SQL Server Users Group and SQLSaturday RVA events, and is an avid photographer.
Title:
SQL Restore: Optimizing Your Data Recovery
Abstract:
When disaster strikes, everyone's immediate question becomes: How long until the system is back online? Whether it's a single database or the whole SQL environment, time is essential... As everyone waits on the restore to complete.
How long will the restoration process take?
Can it run faster?
In this session, we'll answer these questions by looking at how to establish and maintain a Restoration Baseline and the options available for performance tuning database restores.
Discount Code to PASS Summit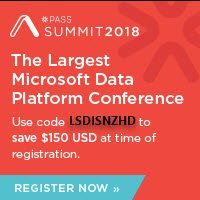 Thanks to our Sponsors!