Description
Monthly Meeting Announcement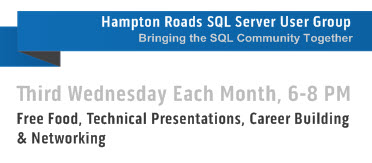 About Us
Hampton Roads SQL Server User Group is a group which embraces the PASS mission statement, "to empower data professionals who leverage Microsoft technologies to connect, share, and learn through networking, knowledge sharing, and peer-based learning." The HRSSUG is focused on Microsoft SQL Server software and the tools related to its use for all users starting with novices all the way up to experts. Join us for HRSSUG's regularly scheduled meetings every third Wednesday of every month.
We focus on connecting SQL Server professionals working in all of the major areas of data.
Our Topics
Database Administration
Business Intelligence
Design
Development
Machine Learning
Performance Tuning
Career Building & Soft Skills
Typical Meeting Format
6:00pm - 6:30pm | Free food / beverages, networking and group discussion.
6:30pm - 6:45pm | PASS news / announcement, a word from our sponsors, local event reminders.
6:45pm - 8:00pm | Speaker presentation followed by open discussion and networking.
This Month's Speaker : Wendy Pastrick
Bio:
Wendy Pastrick is from Chicago, IL, and for the past 15 years has served as a Database Administrator supporting both development and production environments. Her many years of involvement with PASS include WIT Virtual Chapter and the Chicago Suburban User Group, serving as Regional Mentor, and as a PASS Board member since 2013. Wendy has organized several highly successful SQLSaturday events in Chicago.
Title:
Navigating the Options for Data Redundancy
Abstract:
SQL Server has so many options for data redundancy, how do you know when you should use replication, or log shipping or AlwaysOn, etc? We will use real world examples where data redundancy is needed and discuss which is the appropriate technology and why. This is more than just a high availability vs disaster recovery discussion. If you have ever been confused or overwhelmed by all of the options, they will be broken down and made clear in this session.
Discount Code to PASS Summit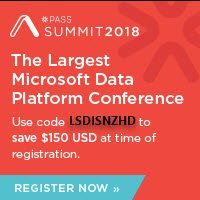 Thanks to our Sponsors!