Description
Monthly Meeting Announcement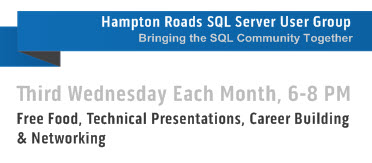 About Us
Hampton Roads SQL Server User Group is a group which embraces the PASS mission statement, "to empower data professionals who leverage Microsoft technologies to connect, share, and learn through networking, knowledge sharing, and peer-based learning." The HRSSUG is focused on Microsoft SQL Server software and the tools related to its use for all users starting with novices all the way up to experts. Join us for HRSSUG's regularly scheduled meetings every third Wednesday of every month.
We focus on connecting SQL Server professionals working in all of the major areas of data.
Our Topics
Database Administration
Business Intelligence
Design
Development
Machine Learning
Performance Tuning
Career Building & Soft Skills
Typical Meeting Format
6:00pm - 6:30pm | Free food / beverages, networking and group discussion.
6:30pm - 6:45pm | PASS news / announcement, a word from our sponsors, local event reminders.
6:45pm - 8:00pm | Speaker presentation followed by open discussion and networking.
This Month's Speaker : Grant Fritchey
Bio:
Grant Fritchey, Microsoft Data Platform MVP, has more than twenty years' experience in IT. That time was spent in technical support, development and database administration. Grant currently works as a Product Evangelist at Red Gate Software. Grant writes articles for publication at SQL Server Central and Simple-Talk. He has published several books including, "SQL Server Execution Plans" and "SQL Server Query Performance Tuning." Grant Fritchey currently serves on the Board of Directors of the PASS organization, the leading source of educational content and training on the Microsoft Data Platform, as the President. Grant teaches and presents at events, large and small, all over the world.
Title:
SQL Server Query Store
Abstract:
For the most part, query tuning in one version of SQL Server is pretty much like query tuning in the next. SQL Server 2016 introduces a number of new functions and methods that directly impact how you're going to do query tuning in the future. The most important change is the introduction of the Query Store.
This session will explore how the Query Store works and how it's going to change the methods you use to tune and troubleshoot query performance. With the information in this session, not only will you understand how the Query Store works, but you'll know everything you need in order to put it to work with your own SQL Server 2016 tuning efforts, as well as your Azure SQL Databases.
Thanks to our Sponsors!