Description
Monthly Meeting Announcement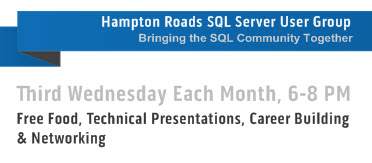 About Us
Hampton Roads SQL Server User Group is a group which embraces the PASS mission statement, "to empower data professionals who leverage Microsoft technologies to connect, share, and learn through networking, knowledge sharing, and peer-based learning." The HRSSUG is focused on Microsoft SQL Server software and the tools related to its use for all users starting with novices all the way up to experts. Join us for HRSSUG's regularly scheduled meetings every third Wednesday of every month.
We focus on connecting SQL Server professionals working in all of the major areas of data.
Our Topics
Database Administration
Business Intelligence
Design
Development
Machine Learning
Performance Tuning
Career Building & Soft Skills
This Month's Speaker :
Speaker:
Kevin Feasel
Title: SQL Server Machine Learning Services in Production

Writing code which uses SQL Server Machine Learning Services is easy enough, but that is just the beginning of the story. In this talk, we will cover the rest of the R development story for database administrators. We will look at the methods available to install and maintain R packages, learn good practices for deploying and maintaining custom SQL Server Machine Learning Services code, and learn where to find critical information when things break. These battle-tested tips will make it easier for you to integrate R and SQL Server Machine Learning Services in your existing deployment processes and get the most out of this feature.

Bio:
Kevin Feasel is a Microsoft Data Platform MVP and Engineering Manager of the Predictive Analytics team at ChannelAdvisor, where he specializes in T-SQL and R development, fighting with Kafka, and pulling rabbits out of hats on demand. He is the lead contributor to Curated SQL (https://curatedsql.com) and author of PolyBase Revealed (forthcoming). A resident of Durham, North Carolina, he can be found cycling the trails along the triangle whenever the weather's nice enough.

Signed up for SQLSaturday VA Beach Yet? FREE TRAINING! Check it out!

https://www.sqlsaturday.com/839/EventHome.aspx
PRE CONS are AVAILABLE!
Thanks to our Sponsors!