Description
Monthly Meeting Announcement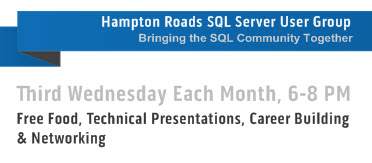 About Us
Hampton Roads SQL Server User Group is a group which embraces the PASS mission statement, "to empower data professionals who leverage Microsoft technologies to connect, share, and learn through networking, knowledge sharing, and peer-based learning." The HRSSUG is focused on Microsoft SQL Server software and the tools related to its use for all users starting with novices all the way up to experts. Join us for HRSSUG's regularly scheduled meetings every third Wednesday of every month.
We focus on connecting SQL Server professionals working in all of the major areas of data.
Our Topics
Database Administration
Business Intelligence
Design
Development
Machine Learning
Performance Tuning
Career Building & Soft Skills
This Month's Speaker :
Speaker:
Cameron Snapp
Bio:
Cameron Snapp is a MCSE and PMP certified IT Consultant with over 15 years of database architecture and development experience. He has worked on dozens of Microsoft SQL Server OLTP, Data Warehouse, and Business Intelligence projects. He holds a Computer Science degree from the University of Richmond and a Master's degree in IT Management from the University of Virginia. Cameron specializes in IT Projects related to data strategy, modeling, integration and reporting.

Title:
Azure Data Engineering
Abstract:
As Microsoft releases new Azure features, migrating your ETL processes to the cloud is becoming easier all the time, but also more confusing. Understanding the use and connectivity of the different storage and services is more critical than ever. I'll start with an overview of Azure data components, detail how they can be integrated, and demo the lift and shift of existing SSIS packages to Azure. I'll also demo some dynamic ways to program Data Factory and the features of the brand new Data Factory Data Flow! Throughout, we'll discuss best practices for different Azure centric data migration strategies and explore the benefits of adopting an ELT approach.
Signed up for SQLSaturday VA Beach Yet? FREE TRAINING! Check it out!

https://www.sqlsaturday.com/839/EventHome.aspx
PRE CONS are AVAILABLE!
Thanks to our Sponsors!