Description
Monthly Meeting Announcement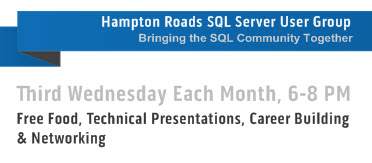 About Us
Hampton Roads SQL Server User Group is a group which embraces the PASS mission statement, "to empower data professionals who leverage Microsoft technologies to connect, share, and learn through networking, knowledge sharing, and peer-based learning." The HRSSUG is focused on Microsoft SQL Server software and the tools related to its use for all users starting with novices all the way up to experts. Join us for HRSSUG's regularly scheduled meetings every third Wednesday of every month.
We focus on connecting SQL Server professionals working in all of the major areas of data.
Our Topics
Database Administration
Business Intelligence
Design
Development
Machine Learning
Performance Tuning
Career Building & Soft Skills
This Month's Speaker :
Speaker:
Matt Gordon
Title: Top 5 Tips to Keep Always On AGs Always Humming and Users Happy

Have you ever wondered what it takes to keep an Always On availability group running and the users and administrators who depend on it happy? Let my experience maintaining several production Always On Availability Groups provide you some battle-tested information and hopefully save you some sleepless nights. From security tips to maintenance advice, come hear about some less than obvious tips that will keep users happy and the DBA's phone quiet.

Bio:Matt is a Microsoft Data Platform MVP and has worked with SQL Server versions from 2000 up to and including SQL Server 2019. He is the leader of the Lexington, KY chapter of PASS, a frequent SQL Saturday and user group speaker, and speaker at PASS Summit 2017 and 2018. He's also been named an IDERA ACE and 2019 Friend of Redgate. His original data professional role was as a database developer, but that quickly evolved into query tuning work which further evolved into being a full-fledged DBA in the healthcare realm. He has supported critical systems utilizing SQL Server across multiple data centers and managed dozens of 24/7/365 SQL Server implementations. He currently utilizes those years of real world experience as a national Microsoft data platform consultant helping clients design deployment solutions that meet their ever-changing business needs.