Description
Monthly Meeting Announcement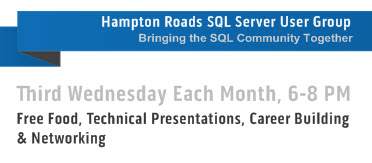 About Us
Hampton Roads SQL Server User Group is a group which embraces the PASS mission statement, "to empower data professionals who leverage Microsoft technologies to connect, share, and learn through networking, knowledge sharing, and peer-based learning." The HRSSUG is focused on Microsoft SQL Server software and the tools related to its use for all users starting with novices all the way up to experts. Join us for HRSSUG's regularly scheduled meetings every third Wednesday of every month.
We focus on connecting SQL Server professionals working in all of the major areas of data.
Our Topics
Database Administration
Business Intelligence
Design
Development
Machine Learning
Performance Tuning
Career Building & Soft Skills
This Month's Speaker :
Speaker:
Andrew J. Kelly
Senior Technical Subject Matter Expert with B3 Group Inc
Bio:
Andrew J. Kelly is a Senior Technical Subject Matter Expert with B3 Group Inc. and a Data Platform MVP with over 20 years' experience with relational databases and application development specializing in Performance, Scalability and Maintainability of large scale SQL Servers. He is a regular speaker each year at multiple conferences.
Twitter: http://twitter.com/gunneyk
MVP Profile: http://mvp.microsoft.com/en-us/mvp/Andrew%20J.%20Kelly-5438
Title:
Getting your Daily Debrief
Abstract:
We will walk thru the code and process to automate the collection of several key aspects of your SQL Server instance that you should be aware of each day. This will include parsing the SQL Server Error logs, extracting key DDL / Audit events and finding the top offending SQL statements. The automation will include scheduled jobs that use standard TSQL, Extended events and PowerShell to gather and extract the necessary information so they can be loaded into tables for easy reporting.


Signed up for SQLSaturday VA Beach Yet? FREE TRAINING! Check it out!

https://www.sqlsaturday.com/839/EventHome.aspx
PRE CONS are AVAILABLE!
Thanks to our Sponsors!