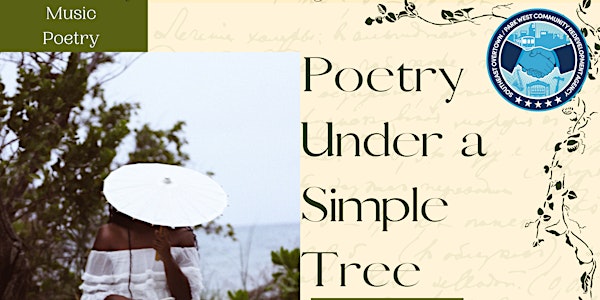 Hampton Art Lovers Presents: "Poetry Under a Simple Tree : Christell Roach"
"Poetry Under a Simple Tree: Christell Roach" is a celebration of language, history, and belonging featuring the Poetry of Christell Roach.
When and where
Location
Historic Ward Rooming House 249 Northwest 9th Street Miami, FL 33136
About this event
"Poetry Under a Simple Tree" is a celebration of language, history, community and belonging in the historically Black community of Overtown. Overtown has been a place of inspiration for artists and writers for generations. But its also the past home of teachers, preachers, and domestic laborers who lived and created history on the grounds of what is now recognized as the Hampton Art Lovers gallery at the Historic Ward Rooming House.
Hampton Art Lovers is excited to showcase the Poetess, Christell Roach, the 3x great granddaughter of Shadrack Ward (the architect, founder and namesake of the Historic Ward Rooming House). Generations later, Christell comes through this lineage with stories and language that lifts the documented from the page and humanizes them with thought, emotion, and nuance. Christell mirrors the communities of today and yesterday in her writing, while maintaining the sanctity of imagination, dreams, and prayer in creating.
Christell is an MFA candidate at the University of Miami studying poetry and the 2022-2024 Wallace Stegner Fellow in Poetry at Stanford University. As a descendent of Miami's Black Pioneers of the 1800s, Christell Victoria Roach is a storyteller born and raised here in Miami, Florida. She uses poetry to build monuments to Blackness & Blueswomen. She graduated from Emory University's Class of 2019 with a Bachelor of Arts degree in creative writing and African American studies. She writes the Blues of the Southern Tropics. Roach places her poetry in conversation with Black artists and scholars when she describes her writing as "critically fabulist wake-work rooted in the demonic," after Saidiya Hartman, Christina Sharpe, and Katherine McKittrick, respectively. Roach's recent work has been published by the Academy of American Poets, Poetry Magazine, Obsidian: Literature & Arts in the African Diaspora, Scalawag Magazine, The Miami Rail, and SWIMM Every Day. She is currently working on her first book of poetry, Bluesing.
The Ward family has extensive family archives captured by generations of women. Christell's Master's thesis, Bluesing, is a book of poetry about music, history, and the magic of Black South Floridian culture. She writes to further a tradition of witness started by her Aunt Patricia Jennings-Braynon, her great-aunt Wilhelmenia Franks Jennings, and her grandmother Christell Ingraham Roach, and great grandmother, Jane Witlean Franks-Ingraham. Both Franks girls are the daughters of Shadrack's eldest child, Genevieve Ward, who married Willie Franks (the brother of Victoria Franks) when Shadrack remarried after the death of Genevieve's mother. All of these women became educators, community organizers, founders of various cultural and educational programs and actively participated in not only making history but documenting it for generations. They founded the Egelloc Social & Civic Club in 1940 at the Ward Rooming House to provide scholarships for Black College Students.
This edition of "Poetry Under a Simple Tree" is a space for the Ward descendants to speak to the community through poetry! Come out for a night of poetry, featuring works by Christell Victoria Roach. Christell will read a selection from her first book, Bluesing, and premiere her first short film! Guests will have the opportunity to obtain a limited-edition broadside and participate in conversation with descendants of the Ward's about Overtown and Miami's Black history. Hosted by the Hampton Art Lovers, guests will also be able to circulate the gallery for its newest exhibit, "Starry Crown: Art of the #BlackGirlMagic." Join us as we celebrate the "Starry Crown" of this daughter of Miami, of Overtown, as she heads to the renowned Stegner Fellowship at Stanford University (one of five poets selected in the country), to continue telling our stories!