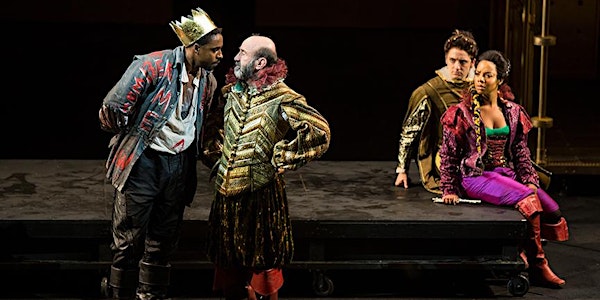 Hamlet, (Part Two) ONLINE Reading - North County
Join us for a fun night of reading the play directed by Patrick McBride -part of our North County events!
About this event
There will be a ZOOM link to join the reading, available on the Online Event page or in your "My Tickets" section.
TL;DR: (may contain spoilers): Hamlet sees his dead dad's ghost, pretends to go crazy with revenge, actually goes crazy with revenge (debatable), and everyone dies.
----
A bit more about the play: The ghost of the King of Denmark tells his son Hamlet to avenge his murder by killing the new king, Hamlet's uncle. Hamlet feigns madness, contemplates life and death, and seeks revenge. His uncle, fearing for his life, also devises plots to kill Hamlet. The play ends with a duel, during which the King, Queen, Hamlet's opponent and Hamlet himself are all killed.
----
Hilarious TL;DR ["too long, didn't read"] notes and summaries from the Shakespeare Birthplace Trust. Photo Credits: The Old Globe
Patrick McBride has worked as a professional actor at numerous Shakespeare festivals and theatres around the country, the last two years touring with Intrepid in their Shakespeare education tour, and playing the fool for the San Diego Shakespeare Society's stage reading of King Lear. He has taught Shakespeare classes for kids and adults at the Old Globe, the Shakespeare theater in Washington DC, Intrepid, and for Luminary Arts.
"My passion for Shakespeare focuses on how to play it and how to say it. When I direct one of his plays I assert that Shakespeare is directing from the grave, we simply need to find and follow the clues in the text that enable us to unlock how to best bring it to life on the stage. I will therefore discuss the language, the characters, the plot, the staging, the spectacle and the theme of As You Like It as if those participating in the open reading were the cast of the play and we were attempting our first read through." – Patrick McBride
FAQ
Q: Do I have to read?
A: You are welcome to show up and just watch. We suspect, however, that it will look like too much fun for you to resist for long. A lot of newcomers don't want to read initially but when they see how fun it is, they join in! But there is no pressure at all if you just want to watch and we have regular attendees who have never read.
Q: Can I act as a specific character or be in a particular scene?
A: That may be possible. Each evening has an assigned director who has planned what scenes to cover. If you are really anxious to act in a specific scene, talk to the director at the start and see what can be arranged. No guarantees, but if the scene is being done that night, it might be possible. All scenes are cast that night right before they are read, so usually, everyone who wants to act has the chance to do at least a small role.
Q: Who can participate?
A: Everyone! They are free and open to the public.