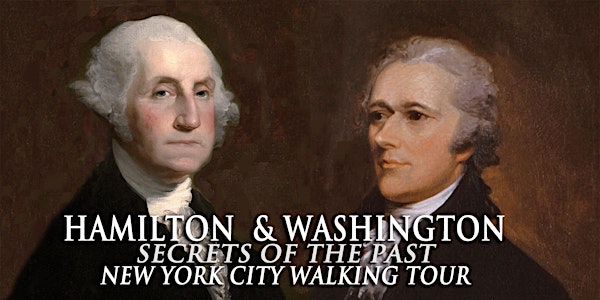 Hamilton and Washington New York City Walking Tour
Experience American history like never before, on the streets where it happened, and through the lives of Hamilton & Washington!
When and where
Location
Alexander Hamilton U.S. Custom House 1 Bowling Green New York, NY 10004
Refund Policy
Refunds up to 1 day before event
About this event
Hamilton and Washington in New York Walking Tour - "Secrets of the Past"
Hamilton & Washington Walking Tour, New York City. This Lower Manhattan tour is the perfect complement to the musical, Hamilton, by Lin-Manuel Miranda based on the biography Alexander Hamilton by Ron Chernow. This fascinating walking tour will give you even greater insight and understanding of the people, events and situations of the Broadway show. Come join us and you'll hear amazing stories, see reproductions of paintings and images of events, and see awe-inspiring locations that helped shape what America is today. The tour led by Bruce Racond, a licensed New York City tour guide with over 20 years of experience.
New York City, the most iconic city in the world, is home to more than 240 years of rich American history. Few stories are more powerful, influential and moving than that of the partnership between founding fathers George Washington and Alexander Hamilton before, during and after the American Revolution.
Experience American history on the streets where it happened, and through the lives of our first commander-in-chief and president, George Washington, and destitute immigrant turned Secretary of the Treasury, Alexander Hamilton–two men who were truly indispensable in guiding and shaping the destiny of the United States.
We invite you to join one of the most unique and exciting walking tours the city has to offer. We'll venture through the streets of New York to recapture unforgettable moments in the history of the United States, such as the British colonial period, the Sons of Liberty resistance, the largest battle of the war, the Battle of Brooklyn, Hamilton's early days as a courageous and valiant new patriot, Washington's emotional farewell to his troops and celebratory inauguration on Wall Street, and the development of Hamilton's brilliant monetary policies that would shape the American economy as we know it today..
Through fascinating stories along our engaging walk in the Hamilton & Washington Walking Tour NYC, you'll be drawn into the past as you learn about:
The earlier North American war that led to the epic Revolutionary War
The first New York reading of the Declaration of Independence on July 9, 1776, and the mob protest that followed
George Washington's daring and miraculous nighttime river escape
The lies and deception of Washington, the great "spymaster"
The moving inauguration of George Washington
Alexander Hamilton's prolific 100,000 words in the Federalist Papers that secured ratification of the Constitution
The resting place of Alexander Hamilton and his wife Eliza
The splendid 18th-century chapel where Washington attended services
The letters behind the infamous duel with Vice President Aaron Burr…and so much more!
Please see our current TripAdvisor reviews.
This is a lower Manhattan walking tour. Meeting location will be emailed once you purchase your tickets.
The tour is conducted in the rain, snow or shine.  Some locations may not be open or accessible depending on weather and/or park closings. There are no refunds, exchanges, or rescheduling for rain or snow.
Please arrive 15 minutes early to check in.  Please be on time.  The tour will leave the meeting location 5 minutes after the start time. Text or call 917 475-6839 or email brucer@discovernewyork.com if you are running late.
COVID PRECAUTIONS:
SOCIAL DISTANCING/MASKS: Please practice social distancing from the people not in your party. You and your party are welcome to wear masks if you choose.
By taking this tour, you and your party voluntarily assume all risks and those related to exposure to COVID.
FAQs
 Do I need to purchase tickets in advance or can I purchase walk up tickets?
Please purchase your tickets online in advance.  If you already purchased tickets and need to add people at the last minute, contact us at revtours@discovernewyork.com or 917.475.6839 and we will try to accommodate you.
What is your Refund Policy?We have a 48-hour refund policy for tickets purchased directly from this website. Please contact us no later than 48 hours before the start time of the tour at revtours@discovernewyork.com.  If you do not cancel your tour within this time frame you will be held responsible for the total amount of your tour.  A refund will be issued if we need to cancel a walking tour because of severe weather or a tour guide is ill and no substitute is available.
What is your Rescheduling Policy?Tour tickets can be rescheduled with at least 48 hours before the tour start time at revtours@discovernewyork.com  with the following exceptions:
In case of extreme weather in the forecast, we will contact you at the email address you provided when you booked to offer you rescheduling options.  Otherwise, we conduct our tours rain, snow, or shine.
If we have to cancel a tour.
Do you cancel your walking tours in the rain or snow?All of our walking tours take place rain, snow or shine. We can still show you the sights of the tour—just bring an umbrella and dress appropriately. However, in cases of severe inclement weather (i.e. severe tropical storm, blizzard, etc.) we do reserve the right to cancel a tour. In these instances, we will notify you via the email provided at purchase and offer refunds and rescheduling options. There are no refunds, exchanges, or rescheduling for rain or snow.
Are there group size minimums and maximums?We like to limit tours to approximately 15 adults to keep it intimate (and so we don't need to carry fluorescent flags or bullhorns).  As for minimums, we reserve the right to cancel a public tour if a minimum of 4 participants is not reached.  In these cases, we will offer customers the option to reschedule.  If there are no rescheduling options, we will offer full refunds for the tickets.
If I miss the walking tour I purchased, can I just show up for another one?No, your ticket is only valid for the tour you selected at time of purchase (both date and time specific). This allows us to reserve your spot. There are no refunds, exchanges, or rescheduling if you are running late.
I live in New York.  Will I appreciate the tours?We're proud to say that many of our participants have lived in New York for many years or were born in New York and are surprised to find how much they learn about neighborhoods they've passed through many times.
Do you offer private tours?Yes, we offer tours customized for your group or occasion.  Private tours are a great way to see exactly what interests you or your group and at the most convenient day and time.  Fill out the form on the contact page and provide as much information as possible or call us at 917.475.6839. 
Is the tour suitable for children?We recommend our tours for children ages 10 and older.  Please also consider a private tour if you would like a tour specially tailored for children.
How much will we walk and is it strenuous?This tour is not very strenuous and moves at a moderate pace.  There will be stairs in some locations.  As for distance, we'll cover about 1.5 miles on the 3-hour tour.
What clothing should I wear?You should definitely wear shoes comfortable for walking on the city streets.  Check the forecast and wear suitable clothing for the weather.
Will there be a restroom stop?Yes, we there will be one restroom stop on our tour.
Are gratuities included in the walking tour price?  Gratuities are not part of the tour fee, but if you enjoyed your time on the tour, gratuities are very much appreciated.
Where do we meet for the tour?We will email you a confirmation and the precise meeting location right after you have purchased your tour.  If you don't see the confirmation please check your email spam folder/filter if you haven't received the confirmation email within 15 minutes after your purchase.
What do I do if I am late?The tour starts promptly at the designated time, so please try to arrive 5 to 10 minutes early. If you are not at the meeting location at the start time, we will begin the tour and leave without you for the sake of the attendees who arrived on time. If you don't find us, we will provide you with a contact number in the email in case an urgent matter prevented you from showing up on time. We will try to assist you in finding your tour group.
Do I need to show a ticket at the start of the tour?Yes, please either print the confirmation email or show the email on your mobile device to your tour leader.
Can I purchase a gift certificate?Yes, tour gift certificates are available and can be purchased using the "Book Your Tour!" link on www.revolutionarytoursnyc.com.
Is my email address required to purchase tickets?Yes, we require a valid email address to send you a purchase confirmation, instructions on where to meet at the beginning of the tour and alerts if there are any changes to the tour (i.e. cancellation because of weather, etc.).  As per our privacy policy we will not sell or rent your email to third parties.
Is there a contact number or email address to contact you with any questions?You can email us at revtours@discovernewyork.com or call us at 917.475.6839.