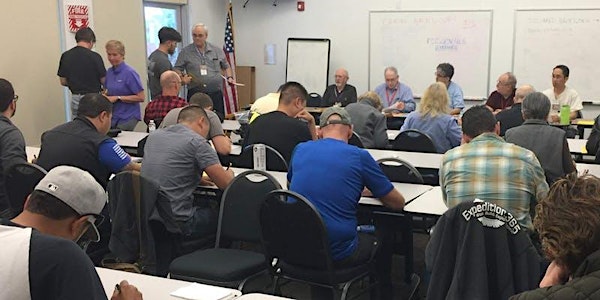 Ham Cram - FCC Amateur Radio License in One Day
When and where
Location
El Camino Hospital Los Gatos Conference Center (Rooms 1, 2, 3) 815 Pollard Rd Los Gatos, CA 95032
Description
This is the 20th Ham Cram put on quarterly by Los Gatos, Monte Sereno, and Saratoga radio amateurs for all who wish to support their family and community in an emergency by providing radio communication services.
This is an 8 hour instructor led class. Attendees should be at least 13 years old (recommended).
If you follow the preparation instructions completely, you will get your FCC Amateur Radio technician license on the day of the class.
The Class is free, but the FCC Examiners charge $15 processing fee for the exam, paid at the start of the exam (4:00p). Some attendees plan to only take the class, and take the exam at a later date so they can take several practice exams before the actual exam. In that case, the $15 fee is not collected until that later date. Almost everyone who has that strategy ends up feeling confident in passing the exam the day of the class, so they stay. But if it comforts you to know you that you can take the exam at a later date, be comforted. The FCC Exam processing fee is $15 at most places, sometimes a little more.
> > > > > > Link to Preparation Instructions < < < < < <