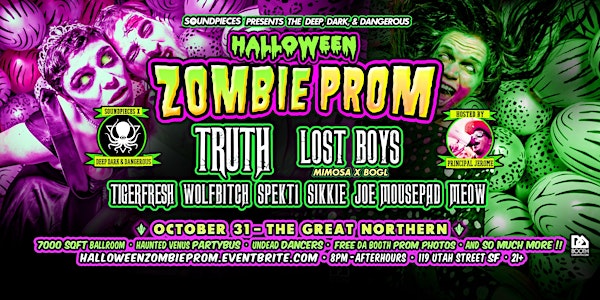 Halloween Zombie Prom - Soundpieces
When and where
Location
The Great Northern 119 Utah Street San Francisco, CA 94103
Refund Policy
Contact the organizer to request a refund.
Description
Soundpieces presents the event San Francisco has been dying for... the Deep, Dark, & Dangerous HALLOWEEN ZOMBIE PROM !!

A HORRIFYING SPELL PLAGUES THE CITY...
Grab your undead date and find yourself a throwback costume, because this will be the weirdest and wildest prom party San Francisco has ever seen!!!

BONE-CHILLING ACTS? BY:
TRUTH (New Zealand/LA - Deep Dark & Dangerous, Deep Medi, Tempa)
LOST BOYS (Mimosa x Bogl)
TIGERFRESH (We Got This)
WOLFBITCH
SPEKT1 . SIKKIE
JOE MOUSEPAD . MEOW
+ MORE!

THRILLER & THROWBACK DANCE PERFORMANCES !
DANCERS: WHITETIGER, INEZ FLORES, LADY JADE, MOLLY VONROE, NUNYA, PAYAM, LYARA NATALYA, SYLVEE BEAUDET, KENDALL LUNA, dSTARk, & MORE!
TERRIFYING PROM PICTURES !
HAUNTED VENUS PARTYBUS! (LOUNGE + SIDESHOW)
KILLER KINGS & QUEENS? !
HAIR-RAISING COSTUME CONTESTS? !
WICKED VENDORS !
ZOMBIFY MAKEUP & CORSAGE STATIONS? !
DEADLY GAMES & PRIZES ! DECO GALORE !
AND AS USUAL, INCREDIBLE SURPRISES!!
8PM - AFTER HOURS . This event is 21+
We know it's a school night so we are starting EARLY with Prom-Themed Activities such as Pizza, Cake, Games and Contests!! Bring your wild, bring your scares, and kill us all with your deadly looks. ZOMBIE PROM IS ON!
COSTUME CONTESTS:
•Best Overall Zombie
•Best Zombie Prom Couple
•Best Zombie Drag Prom Queen
•Best Throwback Prom Costume (zombie theme not required)
•Best Zombie Teen Wolf
•Best Zombie Celebrity (actor or popstar that isnt currently alive)
•Best Zombie Fantasy Creature
You must REGISTER to participate!
Click this form to enter online: https://goo.gl/forms/R3qS8Jjzmk3s0ovE2


This event was made possible by SOUNDPIECES, AFAF, GREAT NORTHERN, NUNYA, EROS MORTIS, EJECTS, WE GOT THIS
This is a raging turn-up-your-weird costume party, dont forget to ...
—PLAN YOUR COSTUME/PROM FIT AHEAD OF TIME
—PREPARE TO ACT UNDEAD
—REWATCH ALL YOUR FAVORITE THROWBACK MOVIES
—BRAINSTORM, GET OBSURDLY CREATIVE
—LEARN THE THRILLER DANCE, HUSTLE, & OTHER CLASSICS
—DREAM ABOUT IMPRESSING YOUR DATE WITH YOUR KILLER ZOMBIE STYLE & DANCE MOVES!

BEWARE:
THIS EVENT WILL HAVE SOME DARK & GOREY MOMENTS!
Fantasy parties are not preygrounds.. Inappropriate behavior will have you expelled!
PLEASE NO WEAPONS, unless they are obviously silly, playful toys.

For Bottle Service visit: http://www.thegreatnorthernsf.com/bottle-service/

Sponsor our event, donate prizes, and/or join the deco team! We are looking for awesome companies and people to collaborate with, especially in the field of Deco & Makeup! Email Soundpieces@gmail.com with info about you and/or company.

Volunteers are welcome! Are you crafty? Experienced? Are you dependable? We need volunteers for deco and manning activities such as costume contests, zombie makeup & corsage booth. Be a part of this once in a lifetime opporunity and share your skills for a greater cause! Email Soundpieces@gmail.com with your info, interests and FB profile to pre-register. Subject: Zombie Prom Volunteer. We must confirm you for your position!

Get your limited presale NOW for the best deal for the best party in hell on earth! Next ticket tier goes up OCTOBER 11th!


SOUNDPIECES has had its hands in organizing top notch events, making art, and weaving webs since 2006. Join us to discover the newest of musical formulas, hosted in the most ideal and sophisticated atmospheres we can find. We are not genre specific, we are quality specific. Soundpieces is famed for showcasing diverse high-end bass music and rare international acts including Diplo, Addison Groove, Aphrodite, Kode 9; and many for their very first time in the Bay Area such as Hudson Mohawke, Mount Kimbie, Rustie, Shlohmo, Nicola Cruz, Caspa, and Joker to name a few. We've been hosting the only diverse bass music "weekly" in San Francisco every Tuesday for over 5 years, and over a decade building within our community to develop one of west coast's premier sources for top shelf underground experiences with forward-thinking music.

@soundpieces

THE VOID Acoustics Soundsystem
We are honored to be able to showcase Soundpieces using a new custom Void Acoustics Sound System, the only one of its kind on the West Coast!!! It's easily one of the best places in the city to hear the biggest sounds.